Securities Analyzed
BABA
BIDU
DIDI
FB
MOMO
NTES
TCEHY
TWTR
WB
What to Know About China's Recent Tech Crackdown
Securities Analyzed
BABA
BIDU
DIDI
FB
MOMO
NTES
TCEHY
TWTR
WB
It's clear no company is safe from China's corporate crackdown…
Over the past few months, it has felt like you can't go a week without a new Chinese tech company getting into trouble with the country's regulators and the rejuvenated Chinese Communist Party's leadership. 
First, it was Alibaba (BABA), with the canceled initial public offering ("IPO") of Ant Financial in November 2020 and its subsequent $2.8 billion fine. Then it was Didi (DIDI), which saw its ride-hailing app taken down from Chinese app stores days after being listed on the New York Stock Exchange – much to the chagrin of Western investors.
In the tumultuous weeks that followed, the for-profit tutoring and education platforms industry was essentially wiped out. Digital gaming companies, including China's biggest tech company by market cap, Tencent Holdings (TCEHY), were dealt a major blow.
While it's unclear who or what the next target will be, it is clear the Chinese leadership – having created a sandbox for these companies to grow without competition – has now decided to remind them who wields power in the country.
Those on the outside looking in may be scratching their heads as to China's motives…
Some of the companies that have caught the Chinese Communist Party's ire include Tencent, Alibaba, NetEase (NTES), Baidu (BIDU), Weibo (WB), and Hello (MOMO), to name just a few. These social media, tech, and gaming platforms also have surprisingly low profitability on an as-reported basis. 
Looking at as-reported return on assets ("ROA") for these companies over the past year, none even approached 10%, suggesting low levels of economic profitability.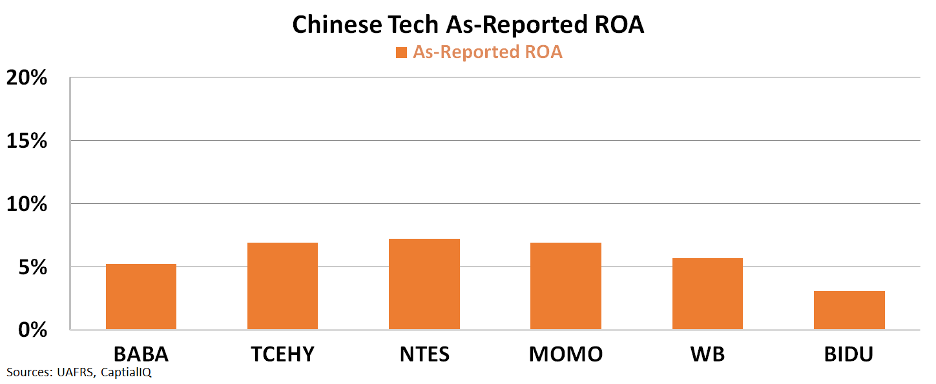 On the surface, these recent crackdowns are puzzling. If China's goal is to promote competitive parity, these companies already seem to have average returns, suggesting a competitive market.
If the government's goal is to take some of these earnings as fines, these don't look like the kinds of companies from which China will receive much from extracting punishment, even if viewed as important politically.
However, applying a Uniform Accounting framework to these companies' financial statements makes it easy to see how profitable they truly are – and why the Chinese government may be so frustrated. 
Most of these companies are the biggest beneficiaries of the so-called "Great Firewall" of China, which prohibits competition from U.S. tech giants, such as Facebook (FB) and Twitter (TWTR) inside the country.
This lack of competition has allowed these companies to build massive businesses – often structured similarly to their Western counterparts – inside of a walled garden, so to speak, leading to huge returns.
Alibaba and Tencent, for example, both generated Uniform ROAs of more than 100% last year, while NetEase and Hello – two gaming firms – also maintained impressive returns.
The story is all the same for Weibo, China's Twitter-like platform, and Baidu, the country's largest search engine provider.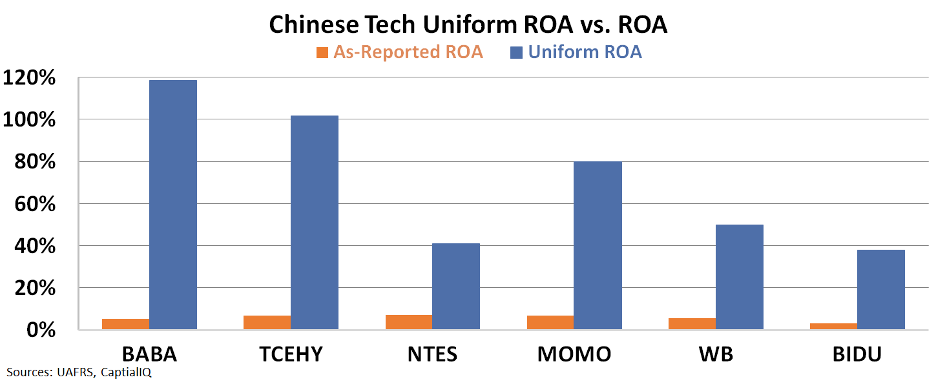 China's leaders may be frustrated that these companies are making boatloads of money – largely thanks to their protectionist measures – yet are still toeing the line in power and influence. 
Until the companies either step into line or experience a decline in profits, the crackdowns are likely to continue.
Uniform Accounting allows us to properly evaluate the profitability of Chinese tech companies... 
Altimeter subscribers can see how Baidu and other Chinese companies are valued using the true numbers. 
Using the power of Uniform Accounting – which removes the distortions in as-reported financial metrics – we analyze stocks based on their real financials.
The Altimeter is our veritable "stock truth detector" and allows you to see the full grading for more than 4,400 other U.S.-listed companies.
If you aren't an Altimeter subscriber, find out how to gain instant access to full the Uniform data by clicking here.
Regards, 
Rob Spivey
August 17, 2021