Why SPAC Mania Came and Went So Quickly
When this hedge fund legend embraced SPACs, Reddit loved it...
The world of WallStreetBets, "meme stocks," and HODL ("hold on for dear life") was mostly just fun and games until it went to war against Wall Street. GameStop (GME) was the weapon of choice, and investment firm Melvin Capital was the first major casualty.
Members of Reddit's WallStreetBets forum realized they could do more than exchange stock ideas to make money. They teamed up to stick it to the big guys by causing the prices of certain meme stocks to rise.
But there is one Wall Street giant that the WallStreetBets forum did appear to trust, legendary investor Bill Ackman.
Ackman's new special purpose acquisition company ("SPAC"), Pershing Square Tontine Holdings, was caught up in the SPAC mania, and Reddit loved it. SPACs raise investor money before looking for a private company to take public. The arrangement, in theory, gives a wider number of investors a piece of the new public pie.
SPACs are the "new kid on the block" instrument. It's a financial vehicle that allows companies to skip the traditional route of going public. Reddit loves them. And if Ackman loves them too, then Reddit loves Ackman.
But Ackman's SPAC mania hit a few speed bumps. Recently, he announced a complex deal to buy a stake in Universal Music Group, which ultimately failed. Those who bet with him have not been experiencing the returns expected of a manager like Ackman. They've been mostly seeing red.
The former commissioner for the U.S. Securities and Exchange Commission ("SEC") filed a lawsuit against Pershing Square earlier this month, claiming Ackman's fund acted improperly. The case could redefine it, and other SPACs, as a regulated investment company, so these vehicles are just like any other publicly traded asset manager.
This would be significant. Currently, SPACs are defined as operating companies... that happen to have no operations other than making a previously private company public without any initial public offering ("IPO") red tape. If this sounds suspect, it's because it can appear suspicious.
Although Pershing Square is taking the brunt of a set of guns-drawn newly empowered regulators, it isn't alone in its suffering.
Many other SPACs that rushed into the market last year amid the seemingly infinite supply of liquidity have seen their share prices collapse. And newly formed SPACs are finding it difficult to source deals.
Investing in new and exciting financial instruments has become fairly popular, but let's make sure that we are on the same page about SPACs...
After decades of hearing about them on the news and during "water cooler" conversations, IPOs are fairly well understood by the investing public. But SPACs are more mysterious, and there are many misconceptions.
Let's try to understand where the pressure might be coming from.
The Pershing Square case is one candidate. But some investors are starting to see how SPACs may not be great financial instruments.
For instance, the process of getting acquired requires less due diligence than a traditional IPO. A SPAC can bring a company public, skipping rules designed to protect shareholders from underbaked investments or fraudulent schemes.
Another issue is that shareholder dilution is built into a SPAC's warrant structure. So if the value appreciates, incremental bits of value (sometimes as high as 10%) are shaved off the top to benefit the dealmakers. Similarly, these vehicles are incentivized to become highly leveraged, similar to the risky leveraged buyout deals you see in the private equity world.
But whereas private equity partners conduct entire research pipelines on their investments to determine if the debt is sustainable, most retail SPAC buyers do not.
This can create a set of potentially perverse incentives for management that many investors are beginning to understand. But there is a simpler, overarching trend putting SPACs under pressure.
Above all else, SPACs are a play on cheap money...
Because SPACs are so highly leveraged, a low cost of capital goes a long way toward making a deal feasible.
SPACs tend to target early-lifecycle companies that are still pre-revenue, like Virgin Galactic (SPCE), meaning these companies usually have yet to generate any sales.
If money remains cheap well into the future, growth for these companies becomes much easier, and valuations rise.
In 2020 and early 2021, money was historically cheap. Not only did the 3-month U.S. Treasury suddenly fall right to the floor, but the 10-year U.S. Treasury remained at less than 1% levels for a 10-month run. This was long enough for entire SPACs to be formed and run deals. That is why there were so many SPACs in 2020.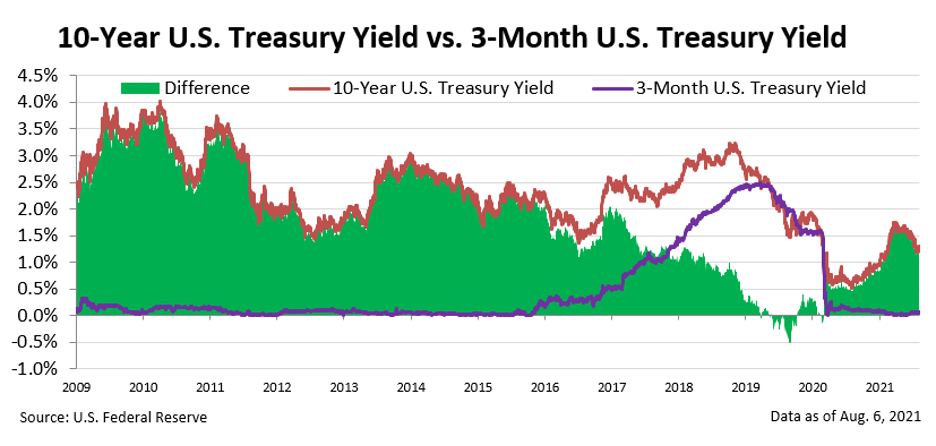 SPACs had existed long before last year as a niche tool.
Until borrowing money was inexpensive, it didn't make financial sense. For decades, the model received little attention. But that changed with the recent government-driven liquidity infusions and low interest rates.
The WallStreetBets, meme stocks, and HODL crowd took note and drove valuations (in their own words) to the moon.
But the cost of borrowing has since risen. Although the risk-free rate is still shockingly low, the 10-year Treasury yield, a good approximate of the long-term cost of debt, is back above 1%.
At around 1.32%, the 10-year yield average for the year is still extremely low.
SPACs are now finding it difficult to source new deals and make existing deals work. It reflects the model's delicate nature. While the traditional IPO model may be tedious upfront, it works in a far wider range of economic conditions compared with SPACs.
Debt markets fuel so much of what goes on in the equity markets and the economy. This is why every Monday, when we give you a picture of the market, we often talk about debt and how it matters to your portfolio.
SPACs are not the only investment realm where you need to watch for red flags...
Microcap stocks often come with "red flags," too. These companies are typically too small to be policed by regulators... so we need to self-police.
But there is no other part of the market where you can find companies with upside as massive as microcaps offer. But the reason for that opportunity is because this space is underpoliced. And if you don't know what you're doing, there's a big risk with that massive potential reward.
That's why we do the deep analytical work for every stock pick in our Microcap Confidential newsletter.
Our repeatable process, accounting insights, and deep fundamental research have led us to average returns of nearly 80% in the Microcap Confidential portfolio.
To find out how to gain instant access to the most recent issue and the full portfolio of microcaps we recommend – click here.  
Regards,
Joel Litman
August 30, 2021