You Can Still Invest in Twitter... Don't Do It
Tuesday, November 22, 2022
Elon Musk has had a rocky first few weeks owning Twitter...
It has been one bad headline after another since he bought the social media giant for $44 billion at the end of October.
First, he laid off nearly 3,700 employees about a week after the deal closed. That was about 50% of the company's workforce.
As it turns out, immediate mass layoffs aren't the best idea...
Within a few days, he backtracked and tried to rehire some employees. He said they'd be necessary to develop future projects.
Musk also tried to improve revenues by changing Twitter verification. This used to be a free service that indicated public figures were who they said they were. But he decided to offer verifications to anyone for $8 per month.
Users were quick to display the flaws in this system. Many people bought verifications for parody accounts.
One now-infamous example occurred when someone impersonated pharmaceutical giant Eli Lilly (LLY). The fake account tweeted that insulin is now free (it's not). Eli Lilly's market cap fell $15 billion in one day.
The company pulled all ads off the platform following the debacle. Other companies – including Pfizer (PFE), General Motors (GM), and General Mills (GIS) – followed suit.
Suffice it to say, Twitter's advertisers weren't happy. Musk sacrificed multimillion-dollar advertising deals in exchange for some $8 subscriptions.
Musk took the company private at the beginning of November. So you might not think any of this matters to investors anymore.
As it turns out, investing in Twitter isn't entirely off the table...
Even though Twitter's equity is private, its bonds are still publicly traded. It has several bonds maturing between 2024 and 2030. Anybody can buy them.
And Cathie Wood, the founder of asset manager ARK Invest, brokered a deal to buy some of Twitter's equity from Musk right before he took the company private.
Wood is a tech investor who got a lot of attention during the pandemic. Her investments include Musk's electric-vehicle venture, Tesla (TSLA).
Wood partnered with an investment platform called Titan to sell Twitter's equity to retail investors. Titan aims to "democratize" access to private equity and venture-capital-style deals.
It might be tempting to buy into Twitter today. Musk has big plans for the social media giant. Some people believe his vision will pan out.
Still, it's hard to deny that it has been a rough transition...
Because Twitter still has public debt – and because it only just went private – its recent financials are still visible. So we can take a look at what potential investors would be getting themselves into.
We can do this using our Credit Cash Flow Prime ("CCFP") analysis. The CCFP shows us cash flows and all obligations together so we can see how strong corporate balance sheets really are. It can help us understand if Twitter is worth investing in today.
In the following chart, the stacked bars represent Twitter's obligations each year through 2028. We then compare these obligations with the company's cash flow (the blue line), cash on hand at the beginning of each period (the blue dots), and available cash and undrawn revolver (the blue triangles).
Take a look...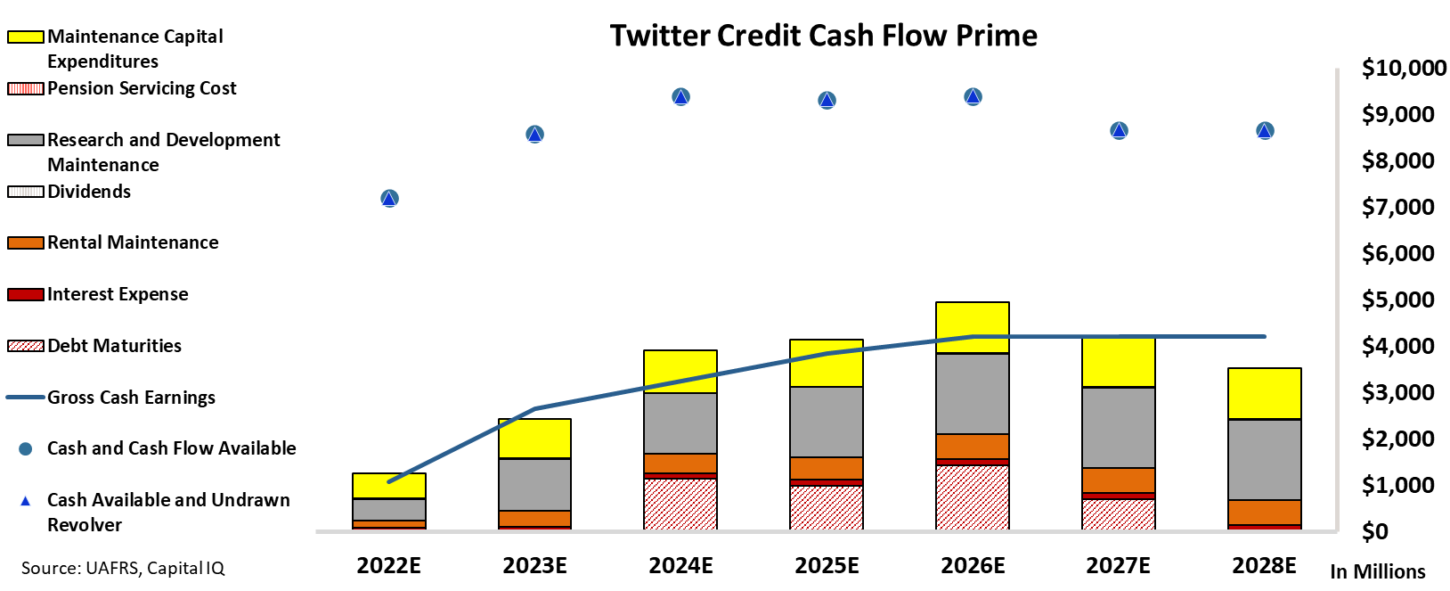 Remember, this is how Twitter's CCFP looked before Musk bought the company. It was already not great. Cash flows didn't quite cover all obligations every year, especially between 2024 and 2026.
And this has likely only gotten worse since the deal closed...
Musk was said to have added about $13 billion in debt to the balance sheet. That debt probably wiped out most of the company's cash, too.
We don't yet know when that $13 billion of debt will be due. We do know that Twitter's cash balance is likely a lot lower now... and its interest expenses (the red bar) are a lot higher.
Even worse, Musk tweeted earlier this month that Twitter is losing $4 million per day. If he's correct, the blue line is probably lower, too.
In other words, Twitter's current CCFP almost certainly looks worse than what we're showing above.
Just because you can still access Twitter investments does not mean you should. This company is in flux – it has a lot of moving pieces.
There may come a day when Musk has figured out Twitter's long-term strategy. For now, it could just as easily enter bankruptcy. Investors should exercise caution.
Regards,
Joel Litman
November 22, 2022