2021: The Year of the Individual Investor
Thursday, December 30, 2021
Joel's note: The Altimetry offices are closed Friday in observance of the New Year's Day holiday, so look for your next Altimetry Daily Authority on Monday, January 3.
---
Revisiting 'meme stocks'...
If you were to ask anyone on Wall Street what was the one thing that they remember about investing this year, odds are they would say something about GameStop (GME). We wrote about the phenomenon in mid-February as it was unfolding when a group of individual investors, talking on Reddit and other social media platforms, saw the possibility of riding up GameStop to huge highs.
Hedge funds had shorted more than 100% of outstanding shares, leaving them exposed. When "social media" investors started buying it, it created a cascading effect to shoot the stock higher.
While fortunes were won and lost throughout the trading wave, one universal positive was making more individual investors interested in taking an active role in their finances.
That's why we were telling our readers to look at stocks that help others buy into the market. One stock that screened well with The Altimeter tool was Cohen & Steers (CNS). With "A" grades across the board, it was well-suited to take advantage of the prevailing market tailwinds. 
Since we first highlighted Cohen & Steers 10 months ago, the stock is up nearly 40%, around double the S&P 500 Index over the same period. Cohen & Steers has benefitted from large movements into equity markets...
Here are a few excerpts from our February 18 issue, "A Crowded Market Benefits Institutional Investors... And Uniform Accounting Proves It," which predicted this profitable outcome.
---
With widespread access to the Internet, more folks than ever can now access investment research and stock ideas... 
It wasn't just Robinhood (HOOD), which drew out these investors in recent years. Business leaders like Elon Musk – CEO of electric car maker Tesla (TSLA) – have used their bully pulpit on social media to get investors engaged.
Musk has become notorious for his ability to move markets with his tweets. All of these swirling factors crashed together in January when retail traders pushed GameStop's (GME) stock into a short squeeze.
During the carnage, Musk was tweeting phrases like "GameStonk" ("stonk" being a satirical misspelling of the word "stock," which is favored by the Reddit group WallStreetBets) that fed into the mania. By the end of the bubble, [Musk] tweeted, "I am become meme, Destroyer of Shorts" – referencing his role in the hype that drove GME shares higher and led to big losses for those who had sold the stock short.
With the rise of the retail investor, Musk has been able to drive investment demand with a tweet in the other direction as well. Tesla's share price plummeted from $760 to less than $700 within minutes [after] he tweeted, "Tesla stock price is too high, IMO."
And in yet another example of how his cult of personality has moved markets, Tesla announced it had purchased $1.5 billion in bitcoin to further diversify its cash position... This caused the cryptocurrency to soar more than 10% to new highs. 
One consequence of the rise of retail investors is the greater market power of popular figures like Musk. Investors need to be aware of greater market volatility now that retail investors have given themselves a seat at the table...
With more investors trading, wealth managers are set to benefit... 
Counterintuitively, more retail investors [should mean] more demand for wealth managers. The more active interest in the market, the more investors, see the need to turn to the experts for financial advice.
This expert knowledge is even more acute in highly illiquid markets like real estate. Investing in real estate requires a huge amount of capital to be diversified properly, and investors also need to be knowledgeable of local markets to get a good deal. 
This is what a wealth management company like Cohen & Steers (CNS) offers its clients. The company allows individual investors to diversify their money in real estate and other more illiquid assets without clients having to deal with any of the headaches or expertise of buying directly.
To better look at Cohen & Steers' performance as the market changes, we can look to our Altimeter tool...
With the power of Uniform Accounting, the Altimeter breaks down the financials of thousands of U.S.-listed companies and shows users easily digestible grades to rank stocks. By eliminating the distortions in GAAP metrics, Uniform Accounting shows us a much more accurate financial picture.
Looking just at the as-reported metrics, Cohen & Steers' return on assets ("ROA") appear to be modest and roughly flat. The company's ROA declined from 27% as recently as 2015 to 21% in 2018, before moving slightly higher to 23% in 2019. 
As-reported metrics make it look like a profitable business, yet one under some pressure.
However, we can see a powerful earnings power trend – a company's ability to grow its earnings year over year – once we clean up the GAAP distortions in the accounting. The Altimeter shows that Cohen & Steers has been able to grow its Uniform ROA sizably in recent years – from 33% in 2018 to an estimated 51% in 2020. 
For context, the average company in the U.S. has an 11% Uniform ROA, so Cohen & Steers sees its earning power rise from 3 times the corporate average to almost 5 times...
This strong trend is why the company earns an "A" grade for its Earnings Power and Earnings Power Trend.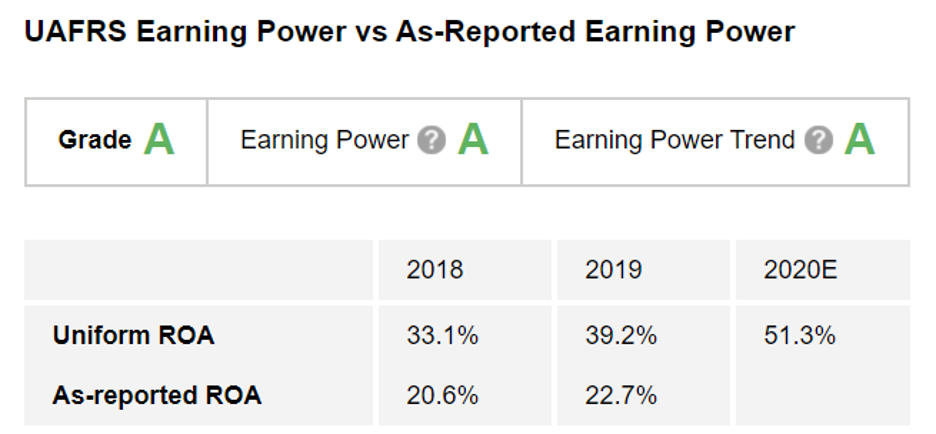 Companies like Cohen & Steers are providing value by offering important services to folks looking to take control of their investing... particularly in corners of the market that can benefit from expert advice.
---
Finding good stock to buy in 2022...
Understanding what the market expects a company to do and whether the company can do better or worse than the market expects is how great investors successfully pick stocks. 
Our unique approach here at Altimetry (using the power of Uniform Accounting) has led us to find several triple-digit winners across all of our portfolios. 
And for a limited time, you can gain access to all our stock advisory services – Microcap Confidential, High Alpha, Hidden Alpha, and The Altimeter – for one price as a lifetime "partner."
But this special offering is only available for two more days before it closes for good. The price for this "lifetime membership" goes up once the ball drops on New Year's Day. 
By taking advantage of this offer, you can set yourself up for increased profit potential in 2022. But you must act soon...
Learn more about this special offer before it expires by clicking right here.
Regards, 
Rob Spivey
December 30, 2021