Securities Analyzed
AMZN
CRM
GOOGL
META
SNAP
VMEO
Big Tech Has Gone From Boom to Doom
Tuesday, January 24, 2023
Securities Analyzed
AMZN
CRM
GOOGL
META
SNAP
VMEO
Layoffs have become the new norm...
During the pandemic, businesses rushed to cater to strong demand from consumers quarantined at home.
Folks were working, learning, and even shopping remotely. And that meant companies needed to adjust as well. As a result, hiring skyrocketed in certain industries...
Tech companies like Facebook owner Meta Platforms (META) and Amazon (AMZN) hired thousands of new employees. They needed everything from computer scientists and engineers to warehouse workers and delivery drivers.
And much of the conversation in late 2022 was based around how employment remained resilient in the face of the Federal Reserve's aggressive rate tightening.
Now, though, a Big Tech downturn looks likely. Today, we'll cover why the tech sector – and one fast-growing tech company in particular – likely has a lot more room left to fall.
Tech companies grew as fast as they could when interest rates were near zero...
Since then, the situation has changed. Interest rates rose more than 4% last year.
Tech companies use low-interest debt to grow as fast as possible. With rates rising, that growth is unsustainable. The same companies that expanded rapidly are reversing course... slashing thousands of employees.
Earlier this month, Amazon announced that it would lay off 18,000 workers. And following its mass layoffs this past November, Meta is now on a hiring freeze.
Another industry leader, Salesforce (CRM), announced that it would lay off 10% of its workforce.
(Regular readers know that we predicted bad news could be on the horizon for this company back in December.)
Unfortunately, these tech behemoths are just the tip of the iceberg. Google parent Alphabet (GOOGL) announced it was laying off 12,000 people last week. And social media companies Snap (SNAP) and Twitter both cut their head counts.
Layoffs can happen as fast as mass hiring... if not faster. And the first cut is almost never the last. All in all, an estimated 150,000 workers in the tech industry were laid off last year.
Popular video-streaming platform Vimeo (VMEO) is another prime example of overinvestment...
Vimeo boomed during the pandemic. Folks were streaming more and more content online. It was well positioned to thrive in the tech-driven environment. From 2019 to 2020, Vimeo's Uniform return on assets ("ROA") rose from 11% to 127%.
The company went on a hiring spree. It hired more than 500 employees in 2021 in an attempt to capture this pandemic-era "at-home revolution."  
That may not seem like much... until you realize Vimeo started the year with only 700. That's employee growth of more than 70% in a single year.
The company is now dealing with the fallout from this overinvestment. In July 2022, it laid off 6% of its workforce. That brought its total head count to roughly 1,100.
And at the start of the month, Vimeo announced another round of layoffs. It's cutting 11% of its global workforce in an effort to become sustainably profitable. That means it's back down to about 1,000 employees.
Vimeo is taking the right steps to lower expenses...
Even so, it's still dealing with a tough macro environment and falling profitability.
The company's overinvestment drastically increased costs. Even more, it was growing right at the market top. And as the world returned to normal, folks no longer needed to spend so much time at home.
Vimeo was caught with too many employees with not enough to do. That led to a collapse in returns.
Its Uniform ROA plummeted to 16% in 2021. And it's forecast to be negative in 2022. Take a look...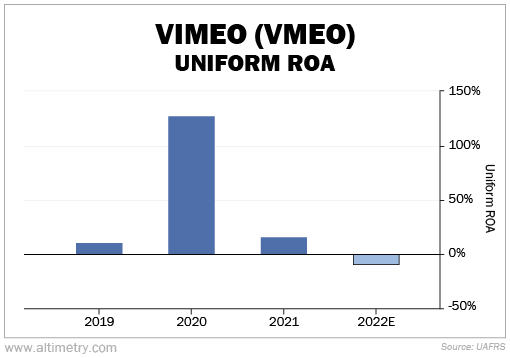 As you can see, Vimeo's Uniform ROA has fallen significantly year over year. It never figured out how to sustain its success from 2020. The company will have to continue making hard choices to survive and strengthen its position.
Vimeo still has a ways to go to get its business under control. That could mean more cost cutting – and potentially another round of layoffs.
The stock is down 72% in the past year. We don't see a rebound happening anytime soon.
Regards,
Joel Litman
January 24, 2023