Don't Overpay for This Maker of the World's New Most Important 'Currency'
Warren Buffett has many memorable quotes, but we may soon start hearing one in particular more often...
Many of the Oracle of Omaha's sayings are about the importance of patience in investing, searching for value, or how to think about businesses. But some of them are about the risks of the underbelly of finance... including this one:
You only find out who is swimming naked when the tide goes out.
Buffett is talking about fraud. Specifically, he means that fraud can often be hidden during good times. Just as a rising tide lifts all boats, it can also hide questionable management activity if business is booming along with everybody else.
As long as you're showing accounting growth in a growing environment and can get access to capital markets, investors may not examine your results as closely. 
But when the economy slows down and credit becomes more judiciously dispersed, hiding fraudulent activities becomes more challenging. It's no surprise that some of the biggest accounting scandals of our time have happened in recessions and bear markets. 
Think back to Enron in 2001 or WorldCom in 2002... or how Bernie Madoff's fraud was uncovered in 2008. And you may have seen the recent big news with coffee chain Luckin Coffee's (LK) revenue overstatement that was exposed in the midst of China's coronavirus-induced struggles. 
One of the important things we focus on here at Altimetry is checking the quality of the accounting and management's alignment with investors, along with the real Uniform results. Our goal is to avoid these types of blow-ups.
But be on the lookout in the coming months... We're likely to see more of these types of issues become exposed as fraudsters run out of places to hide in a more challenging environment.
Times of crisis can lead to strange behavior...
Though most people wouldn't consider themselves hoarders, many families find that they're carrying far more supplies at home than usual right now.
It's understandable... Whether you're trying to limit the number of trips outside you have to make or you're ordering online in bulk in case there are any issues in supply chains, stocking up makes sense.
It's also nothing new...
While coronavirus crisis prepping is unique because of the scale and the reason, we can trace the modern "survivalist" mentality back decades, if not at least the entire past century.
During financial recessions, investors tend to stock up on gold in case our cash-based financial system were to completely dissolve. The same goes for times of war and civil unrest, where tangible items like gold and water rise in value.
And if you've ever prepped for a blizzard or a hurricane, you may remember rushing to the store to buy non-perishable food, water, and even generators in case you end up cut off from power for an extended period of time. 
There have been a few high-demand items during the coronavirus outbreak so far, like the ones we just mentioned. But maybe none have been in as high demand as toilet paper... 
In the middle of March, it felt as though toilet paper was suddenly announced as the next currency.
News segments showed lines of hundreds of people desperate to buy as much toilet paper as possible. Even e-commerce giant Amazon (AMZN) was out of stock of many popular brands. 
Demand was off the charts... And that was great for Kimberly-Clark (KMB).
The consumer goods company is one of the leading paper product manufacturers in the world. It makes everything from toilet paper to tissues, diapers, and even industrial and lab-quality wipes. Kimberly-Clark also owns many of the leading brands you may be familiar with, including Kleenex tissues, Cottonelle, Scott, and Huggies.
While toilet paper got all the news coverage, just about every one of Kimberly-Clark's products has seen a boost from recent consumption patterns. Consumers have certainly been purchasing higher amounts of tissue paper and diapers for the same reasons.
But as we alluded to above, Kimberly-Clark also manufactures a number of industrial products...
Some of these are used in hospital and lab settings – like sanitizing wipes, lab prep wipes, and face masks. These are arguably just as important to the story for KMB, and the coronavirus crisis will likely change how often we use these products in the future.
Despite all the fundamental demand drivers for the business, Kimberly-Clark doesn't look expensive compared to the market. Currently, the company's as-reported price-to-earnings (P/E) ratio is just 19, which is below market averages of 20.
At these levels, investors are saying Kimberly-Clark will continue to be an average or slightly below average business, which appears too bearish considering all the tailwinds the company is experiencing.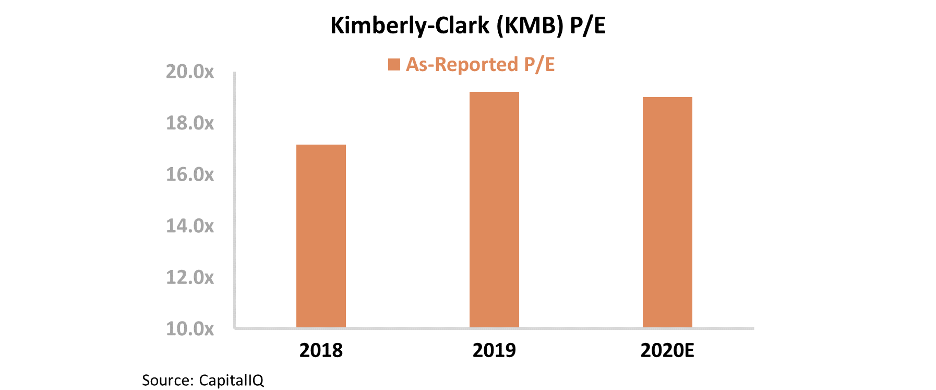 That said, we see the exact opposite picture when looking at Kimberly-Clark using Uniform Accounting...
Once we apply Uniform metrics, which adjust for a number of misleading accounting practices that are standard in as-reported accounting statements, we can see the real numbers.
For a company like Kimberly-Clark, as-reported metrics are distorted by the treatment of operating leases as an annual expense and by the impact of acquisition-related goodwill. After adjusting for these distortions, Kimberly-Clark's real, Uniform P/E ratio is actually 28 –well above current market averages. Take a look...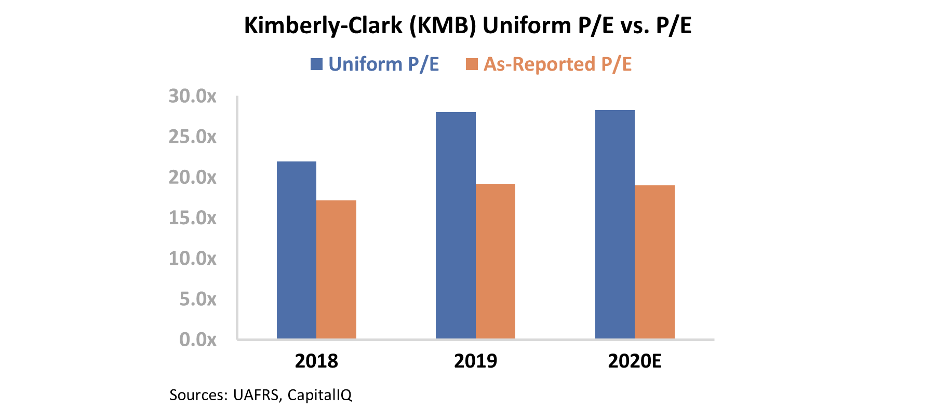 At these levels, it appears the market is already pricing in the significant fundamental tailwinds for the business.
Rather than being an opportunistic buy, it appears Kimberly-Clark may already be fairly valued. Don't allow yourself to buy into false signals, or you may end up overpaying for something you think is a steal.
Regards, 
Joel Litman
April 24, 2020