How We Got Ahead of the Housing Market Top
Wednesday, August 3, 2022
It's no secret that this has been a tough year for the markets...
Inflation, rising interest rates, and the war in Ukraine have taken a toll on consumer confidence. Stocks are still down nearly 20% year to date. And other markets are starting to reverse course, too... like housing.
The housing market enjoyed a historically strong year in 2021. Average list prices were up 10% over 2020 levels.
Despite elevated prices, supply couldn't keep up with demand. Many houses only lasted a few days on the market, and they still often sold above asking.
That trend continued through early 2022... But now, housing looks much worse.
With interest rates rising, mortgages are getting more expensive. That's spooking homebuyers – and the market.
There were about 60,000 home cancellations in June. That's 15% of all home-purchase agreements.
Cancellation rates haven't been that high since April 2020. All of a sudden, it feels like the rug is being pulled out from under the housing market.
Homebuilders are feeling the pain. The S&P 500 is down about 14%, while the SPDR S&P Homebuilders Fund (XHB) is down 24%.
It might seem like this housing turnaround came out of nowhere. But as longtime Altimetry readers may know, we exited the housing market about this time last year.
Take D.R. Horton (DHI). We recommended shares of this homebuilder to our Altimetry's Hidden Alpha subscribers in April 2020. And before that, we had tracked the company for years.
D.R. Horton was perfectly positioned as an entry-level homebuilder...
We covered the stock back in the tailwind era. As we said, homebuilders saw fantastic performance in late 2020 and throughout 2021.
The pandemic drove young folks to leave their apartments in favor of starter homes. So D.R. Horton was set to be a massive winner amid the "At-Home Revolution."
And we were right... D.R. Horton's Uniform return on assets ("ROA") had two great years.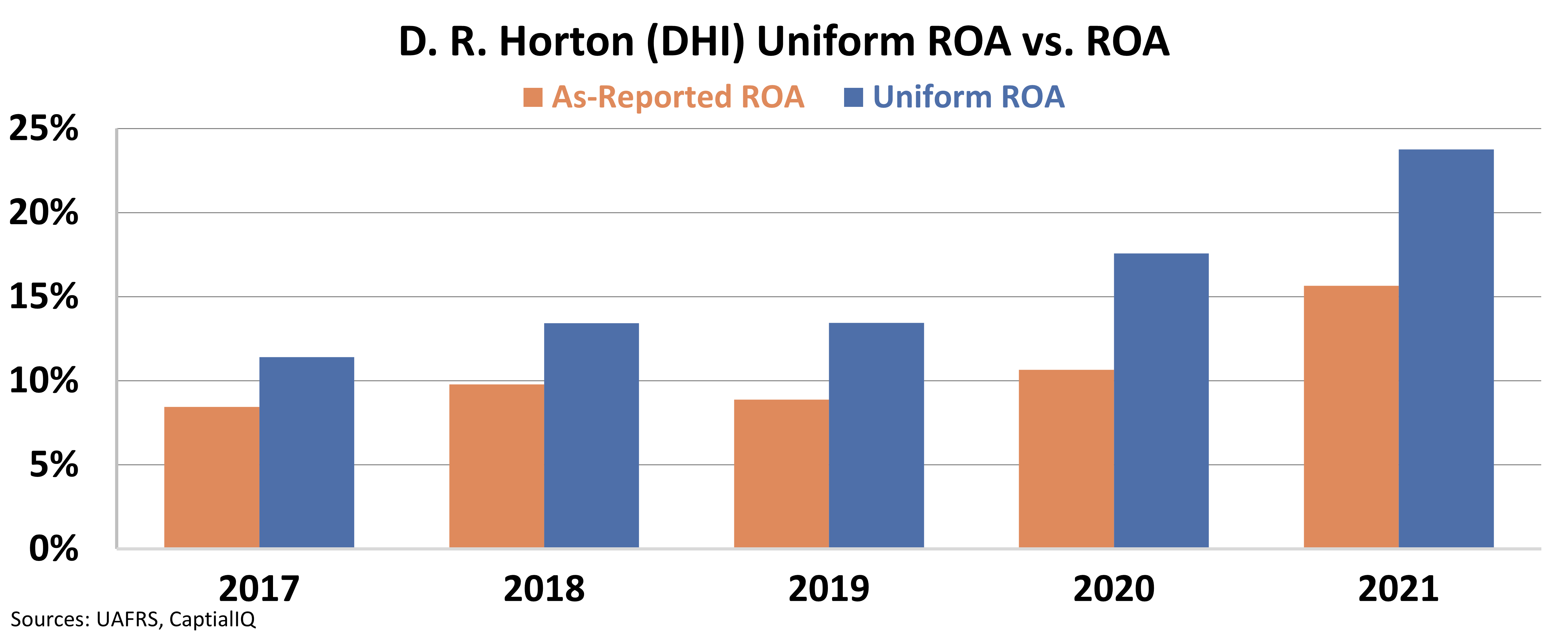 In 2020, Uniform ROA was 18%. It hit 24% in 2021. We timed our recommendation perfectly to capitalize on these industry tailwinds.
We also knew when to get out...
Nothing lasts forever – especially in the markets.
We knew D.R. Horton was set up for a great run. But we also knew that the housing market is cyclical... And we couldn't be afraid to walk away when the market finally "got it."
By August 2021, that shift had started. D.R. Horton's stock price had nearly tripled. Take a look...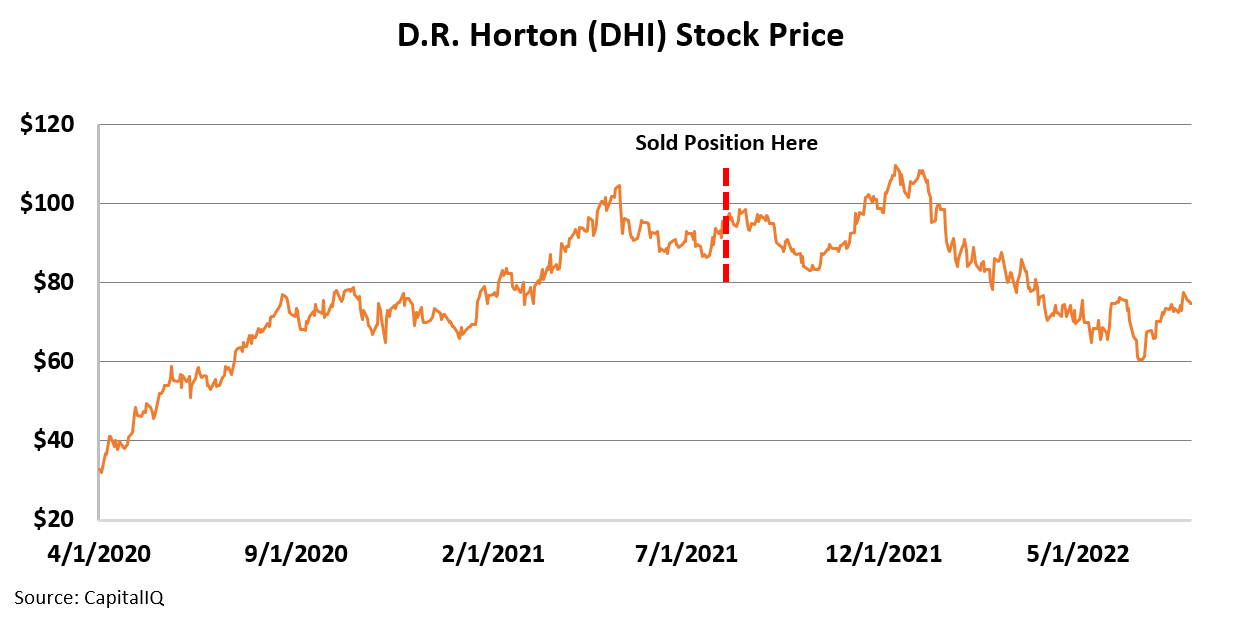 That's when we told readers to sell their D.R. Horton shares. Subscribers who followed our advice booked a gain of 157%.
Since then, D.R. Horton stock has fallen to around $75 per share... almost 9% lower than our sell price.
That's the power of Uniform Accounting. It allows us to better understand what the market is seeing... and what it's missing. If we listen to the real data – and avoid the as-reported "noise" – we can lock in outsized gains in any market environment.
Regards,
Joel Litman
August 3, 2022