Kellogg Made Another Wrong Move in the Cereal Wars
A few weeks ago, we told you that cereal companies are falling behind as consumers turn to healthier options. Specifically, we called out struggling consumer-staples giant Kellogg (K).
Recall that Kellogg, which owns many beloved cereal brands, is splitting into three companies. It wants to prevent its underperforming cereal segment from holding back the more popular snacks and plant-based foods businesses.
Management hopes that changing up its cereal strategy will boost valuations. But as we explained previously, the market is already pricing Kellogg at a premium to corporate averages.
This time around, we want to delve deeper into the health of Kellogg's business...
Earlier this month, the Mixed Berry Soft Baked Breakfast Bars from Kashi – a subsidiary of Kellogg – came under fire from consumers over allegedly misleading packaging.
A class-action lawsuit claimed the packaging overstates the quantity of real berries and honey in the bars. To make things worse, an Illinois court stated that the first ingredient in the "mixed-berry filling" is actually pear juice concentrate. That might be enough to support the claims.
If the claims are proven true, it suggests Kellogg is desperate to boost the profitability it lost due to consumer trends.
Now, this lawsuit likely won't spell disaster for Kellogg... But headlines like this can hurt consumer confidence in an already struggling segment. Folks might think twice before buying Kellogg products if they can't trust what's in them.
Analysts might disagree based on the company's as-reported finances. With an as-reported return on assets ("ROA") of 7%, Kellogg looks like a leader. (That's only an average ROA... But it's about as high as cereal companies get.)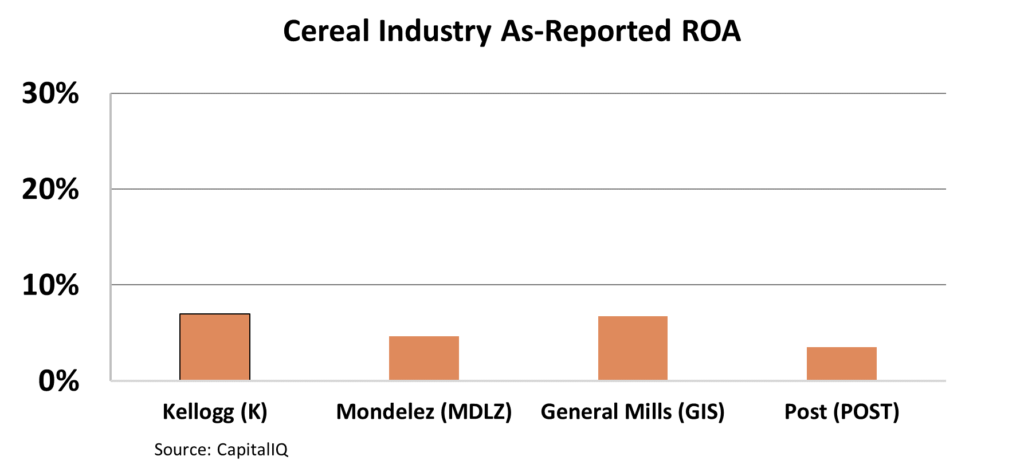 Compared to its peers, those numbers should be enough to attract investors to Kellogg – regardless of supposedly misleading packaging.
But Uniform Accounting shows us that Kellogg's situation is dire...
When we clear up the numbers, we see a totally different picture for the company.
Kellogg's biggest peers actually average a 23% Uniform ROA. But Kellogg is in last place by far. Its Uniform ROA is just 14%, putting it far behind the curve.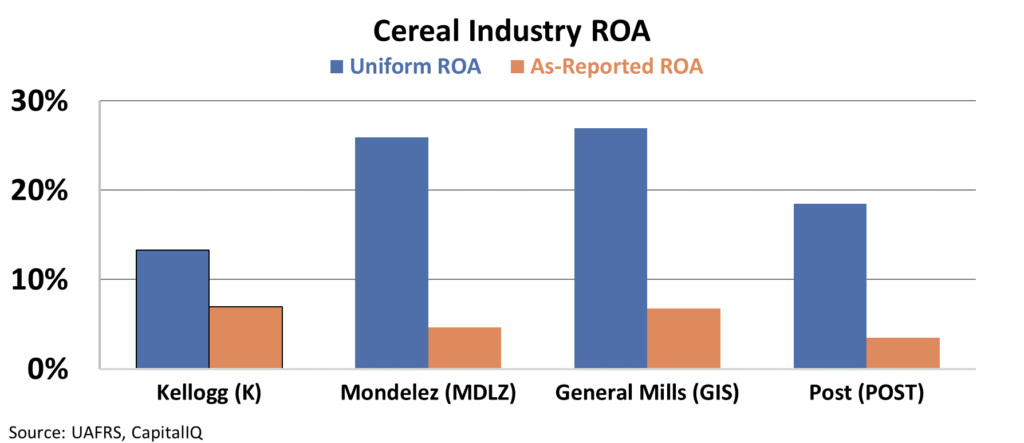 Uniform Accounting lays bare the problems Kellogg is facing.
Now, the company is doing whatever it can to catch up. It seems like a spinoff (or two) won't be enough to save this business.
Regards,
Joel Litman
July 27, 2022