Securities Analyzed
AAPL
AMZN
GE
GEHC
GOOGL
META
MSFT
Look Out for Possible Big Tech Breakups
Wednesday, January 25, 2023
Securities Analyzed
AAPL
AMZN
GE
GEHC
GOOGL
META
MSFT
General Electric (GE) was the conglomerate poster child... 
From 1980 until 2000, the company had one of the best runs the stock market had ever seen. Then-CEO Jack Welch transformed GE from a sleepy, low-growth industrial manufacturing company into a jack-of-all-trades.
Under Welch's leadership, GE bought and built businesses across all kinds of industries. It made aircraft engines... owned media company NBCUniversal... and built out a health care branch. Its biggest business became financial services.
GE wasn't an industrial manufacturer anymore. It was a conglomerate in every sense. Its market cap grew from $12 billion to $410 billion at its peak in 2000.
However, the cracks in this business model have started to show in the past 20 years. As soon as Welch retired, the company started reversing course.
Investors realized that working in so many industries wasn't actually helping the business... It made GE big and bloated.
Today, I'll explain what the past two decades have looked like for GE. And I'll reveal why conglomerates in an entirely different industry could be the next to start splitting up.
GE was in the right places at the right time...
Conglomerates don't really get more efficient when they get bigger. They're being pulled in too many directions at once.
GE did so well mainly because it happened to be in industries that were doing well. Then the first domino fell...
GE's financing arm nearly went under during the Great Recession. The rest of its major segments have stagnated since. And its stock price has fallen by more than 60% since Welch retired in 2001.
Take a look...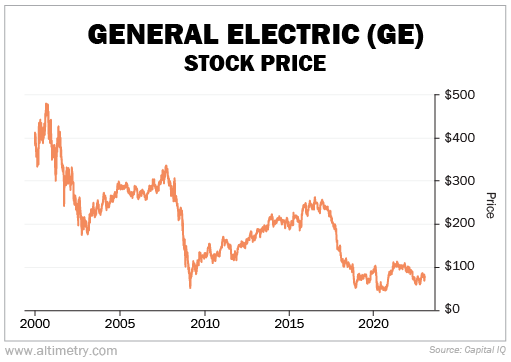 GE had to listen to the market. It couldn't stay viable as a conglomerate... It was spread too thin, and it couldn't give its segments the attention they needed.
It's beginning to unwind in an attempt to survive.
The company has been selling off units it doesn't consider "core," like the GE Capital financial-services business and NBCUniversal. It just finished the spinoff of its health care business, GE HealthCare Technologies (GEHC).
And in 2024, GE will separate from its energy businesses... which will be known as GE Vernova. Aviation will become GE Aerospace.
The company's new strategy is an attempt to get back on track. It shows the once-mighty industrial conglomerates were never built to last.
That brings us to the next sector on the chopping block...
Industrials have already had their "come to Jesus" moment for conglomerates. Meanwhile, Big Tech is still pretending that it doesn't have an issue.
For the past few decades, these companies have considered themselves different from industrials.
Many Big Tech giants have diverse holdings. E-commerce titan Amazon (AMZN) has an online retail marketplace... an advertising business... a content-generation segment... and it owns the dominant cloud-computing business.
Google parent Alphabet (GOOGL) owns a search engine, video-streaming platform YouTube, corporate productivity tools through its Google Workspace suite, a cloud business, self-driving cars, health care solutions, and more.
You may remember that Alphabet changed its name from Google to represent a change in strategy. It wanted to be a conglomerate... with a business or tool for every letter of the alphabet.
And Facebook parent Meta Platforms (META) owns two social media businesses, two chat businesses, a virtual-reality hardware business, and then some.
This strategy has worked well for the past decade. However, the market is changing.
In today's environment, tech companies might find cash hard to come by. Their future success as conglomerates could fall into question.
Eventually, Big Tech will come to the same conclusion as GE and other industrial companies...
Antitrust authorities are getting more active. They have less tolerance for near-monopolies with their hands in every part of the industry. Just yesterday, the U.S. Department of Justice sued Google over its dominance in the digital-advertising market.
And shareholders will be less patient with conglomerates when they're no longer delivering gangbuster growth. Alphabet, Amazon, Meta, and software giant Microsoft (MSFT) lost more than $350 billion combined in the week following third-quarter earnings.
We think Meta could be one of the first to split up. It's one of the biggest advertisers on the planet. Meta and Alphabet generated 48% of digital ad spend last year... less than half for the first time in almost a decade.
Meta's market share has fallen from an estimated 23% in 2021 to 18% in 2023. That doesn't look like a fluke.
People are spending less time online than during the pandemic. Hardware companies like Apple (AAPL) are introducing security measures that prevent companies like Meta from tracking your data.
These are disastrous trends for Meta and its peers. While Big Tech isn't going anywhere, separations might be on the horizon if returns continue to fall.
Investors should exercise caution with Big Tech stocks. Keep an eye on falling earnings... and on antitrust investigations into these companies. The breakup process can be painful.
Regards,
Joel Litman
January 25, 2023