'Revenge Spending' Might Have Doomed the Economy
Monday, September 18, 2023
Breaking records isn't always a good thing...
And the U.S. economy is here to prove it.
Last month, consumers passed a truly impressive $1 trillion... in credit-card debt. Higher interest rates are one reason for this. The average credit-card interest rate was around 16.7% a year ago. Today, that number is above 22%.
That's the highest rate in the 30 years since the Federal Reserve started tracking this metric.
It's not just higher interest rates, though... It's also years of rampant consumer spending.
Credit-card debt has been on a roller-coaster ride since the pandemic started. It sat at about $850 billion in February 2020. By April 2021 – after three rounds of stimulus checks and folks spending far less money while staying home – balances fell below $750 billion.
Two and a half years later, spending surged back with a passion. Credit-card debt is up more than 37% since the 2021 low.
 
America's new record is a sign that the consumer is finally losing steam. Today, we'll explain why that could put further pressure on the economy... meaning more pain could be on the way.
The U.S. government threw the kitchen sink at the pandemic-era economy...
It provided $4.6 trillion in stimulus to help folks keep money in their accounts. As a result, the personal savings rate shot up like a rocket ship.
Then, the world reopened. Folks returned to their old habits... and spending ramped up with a vengeance. They turned their lockdown-induced energy toward industries like travel, restaurants, and retail.
Ed Bastian, CEO of air carrier Delta Air Lines (DAL), noticed the trend. He recently asked his team to measure pent-up spending in areas like food, travel, and hotels over the past three years. They estimated it was about $300 billion.
The economy benefited from all that "revenge spending"... for a time. However, a spending spree of that magnitude can only last for so long.
Since the start of 2022, personal savings rates have been falling again. They're close to levels we saw from 2005 to 2007, before the Great Recession.
And credit-card debt is once again sinking its claws into the U.S. consumer. Balances are now at all-time highs.
Take a look...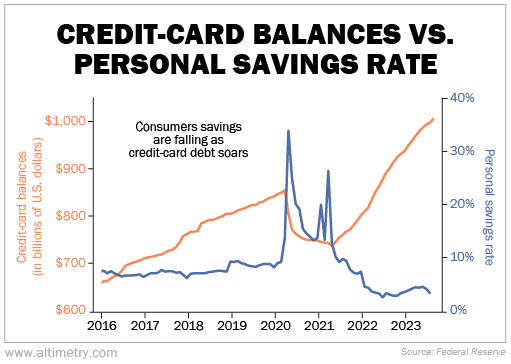 When folks have less money saved up, they're not able to spend as much on non-necessities. We're starting to see the effects of falling savings rates.
Retail seems to be one of the first industries to feel the pressure.
Furniture sales are dropping... online retailer Wayfair's (W) revenue fell 3% last quarter, while recliner and sofa maker La-Z-Boy's (LZB) revenue was down 20%. Revenue for the furniture industry as a whole is down about 2%.
Consumers are getting worried about the future...
More than 75% of Americans think consumption will turn negative by early 2024. Considering that consumer spending is the engine that powers the U.S. economy, this is a huge warning sign.
And yet, you wouldn't know it if you just followed the stock market. The S&P 500 Index is up 17% this year. Such strong returns make it seem like nothing's going wrong.
Economists at financial institutions like Goldman Sachs (GS) are even lowering their odds of a recession. 
With student-loan payments starting back up, we don't think the economy can avoid a downturn. The U.S. consumer can't keep up the past year-plus of spending habits. 
Consumer balance sheets could take an even bigger hit soon. Brace yourself for fear to reenter the stock market.  
Regards,
Joel Litman
September 18, 2023