The Hidden Credit Crisis in China's Booming Housing Market
Thursday, September 7, 2023
There's more to China's housing market than meets the eye...
On the surface, the industry is "technically" in a bull market. According to a Bloomberg Intelligence gauge, it has rallied more than 20% from its July 24 low.
Shares of major property developers like Guangzhou R&F Properties (2777.HK) and Yuexiu Property (0123.HK) are leading the pack, up 48% and 20%, respectively.
Yet, beneath this bull run, China's housing market is on the brink of its next Evergrande. As we've previously covered, Evergrande used to be China's second-largest real estate developer... until it defaulted on its debt.
Now, another one of China's major developers – Country Garden (2007.HK) – is facing bankruptcy.
Along with the rest of the industry, Country Garden has been struggling with tumbling home sales and soaring debt-refinancing costs since last year.
At the end of 2022, it reported total liabilities amounting to 1.36 trillion yuan (roughly $187 billion). And investors were spooked after news broke that bondholders hadn't received their most recent coupon payments...
Earlier this week, the company narrowly avoided entering default. It paid $23 million in overdue interest payments that were getting to the end of their 30-day grace period.
While it's good that one of China's biggest developers didn't enter default... clearly, something has to give. You can't have an industry that's both booming and on the verge of serious debt issues.
Today, we'll examine what's likely to happen to this industry currently sitting between two extremes...
Markets can be euphoric for a short period of time before a crash...
Just look at failed home retailer Bed Bath & Beyond.
For years, the company has struggled with falling revenue. Its sales peaked in 2018 at $12.3 billion and fell to just $5 billion in its last full fiscal year before it filed for bankruptcy.
Back in January, management finally announced that bankruptcy was a serious risk.
And yet, the stock has gone through several short-term rallies since it was targeted in the "meme stock" mania of 2021.
Shares nearly doubled at the start of 2023. Then, after management warned of bankruptcy risk this year, they rose more than 180%... before ultimately cratering.
This could be what's coming for the Chinese housing market.
Even the smallest amount of good news, like Country Garden narrowly avoiding default, can send stocks way higher today. However, investors could get a wake-up call soon...
The credit picture for this rallying Chinese market is frightening...
We can see this by looking at the Credit Cash Flow Prime ("CCFP") analysis of certain Chinese real estate companies. The CCFP helps us compare a company's obligations with its cash position and expected cash earnings.
Today, we'll focus on the two property developers we mentioned earlier... Guangzhou R&F Properties and Yuexiu Property.
In the chart below, the stacked bars represent Guangzhou R&F Properties' obligations each year for the next seven years, including this year. We then compare these obligations with the company's cash flow (the blue line) as well as its cash on hand at the beginning of each period (the blue dots).
Guangzhou has piles of debt every year for the next five years – and basically no cash flows to cover any of it.
Take a look...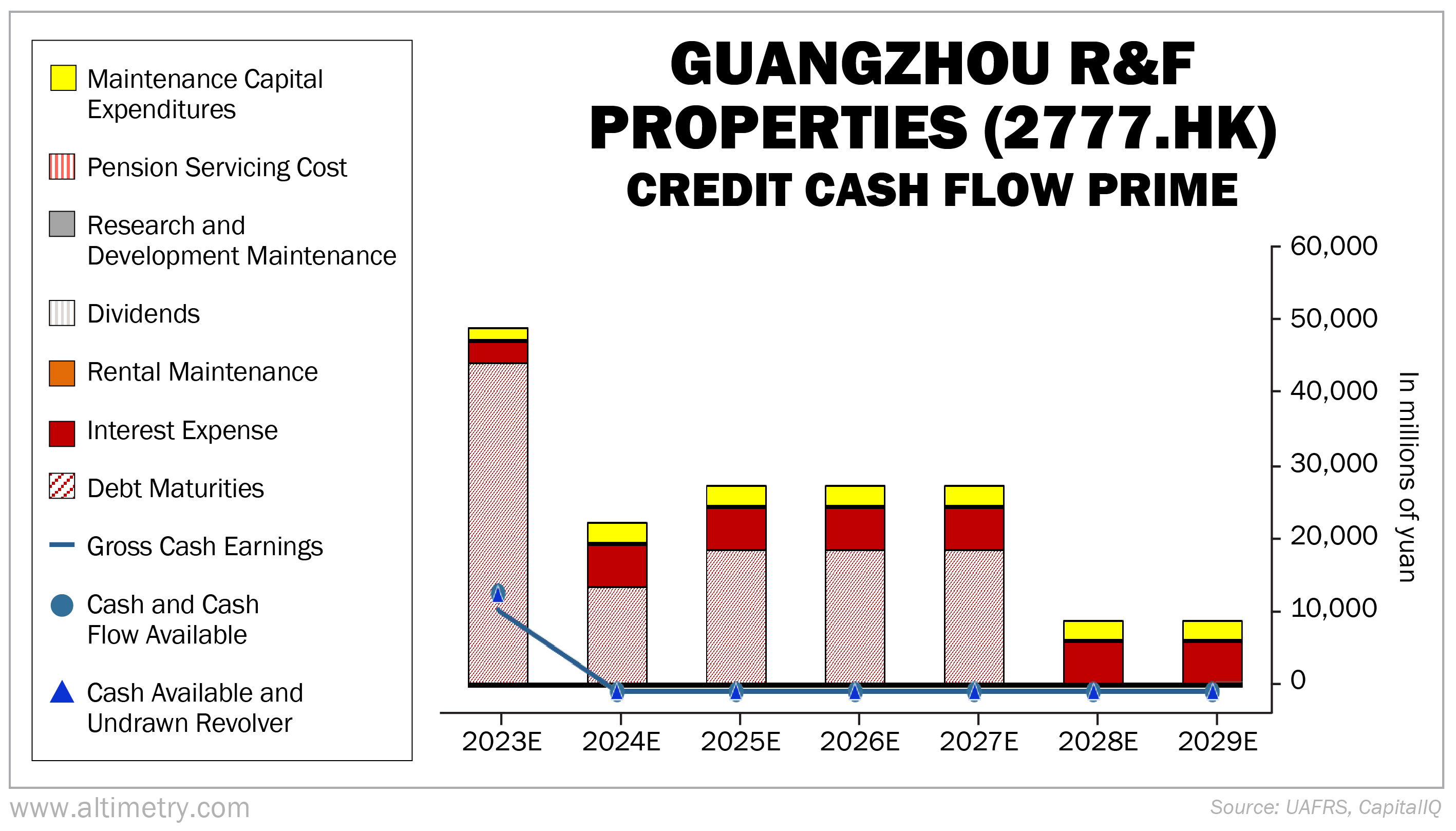 Guangzhou R&F Properties is so indebted that it doesn't have enough money to pay any of its obligations in full. Its stock may have rallied recently, but it's clear the company isn't in good shape.
If Guangzhou can't find a way to refinance and pay off its debt obligations, then we're potentially looking at another Chinese property developer going bankrupt.
It's the same story when we look at Yuexiu Property's credit picture...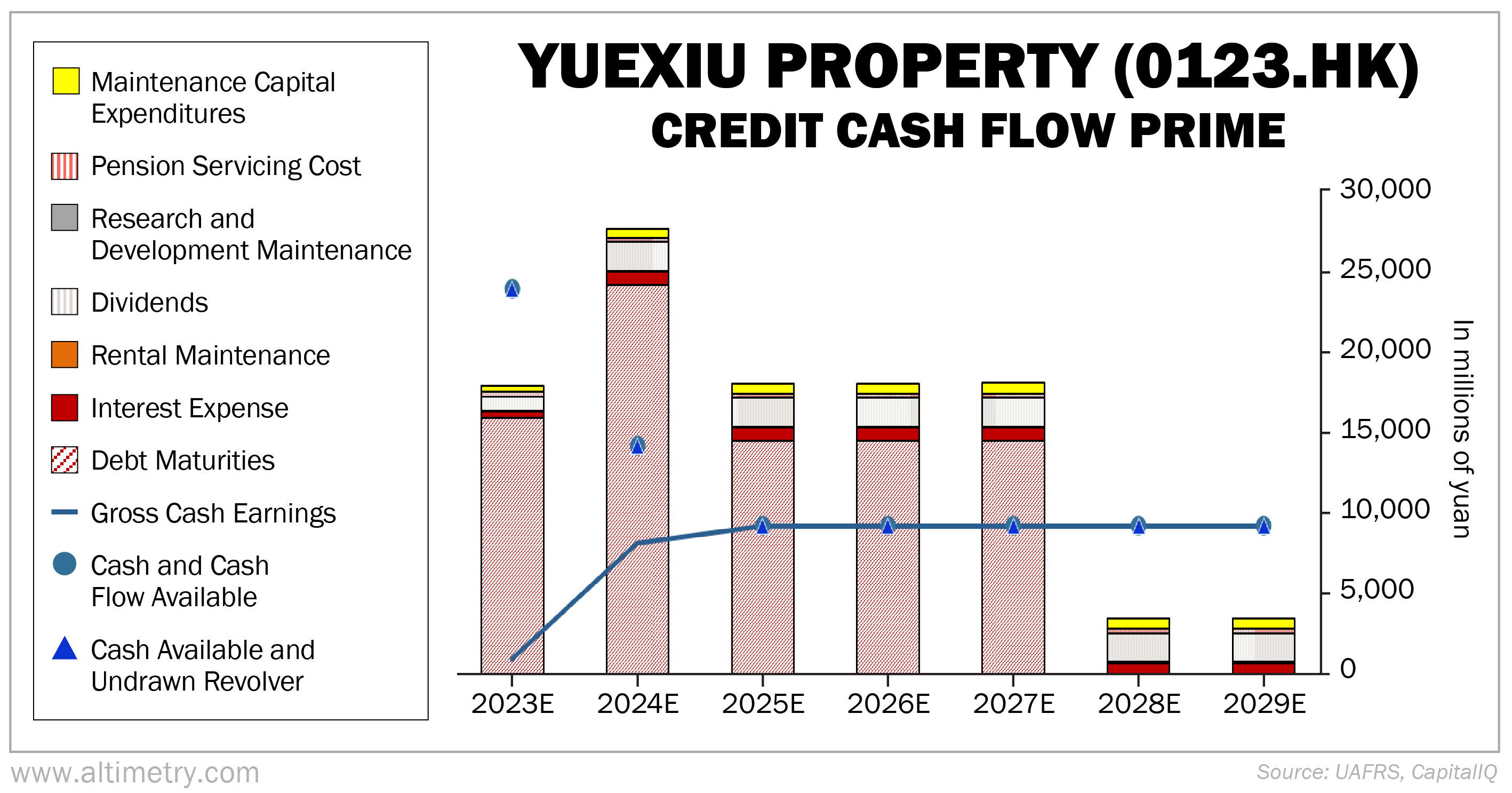 Though Yuexiu is in a slightly better position than Guangzhou... its cash flows are still under pressure. The company has enough capital to cover obligations in 2023, yet it will likely struggle over the next four years.
Again, property sales in China are significantly down. The country's 100 biggest developers reported a 33% annual decline in new-home sales in July.
In other words, things are only going to get tougher from here.
Not to mention, lenders are asking for sky-high interest rates today. That makes it much more difficult for major players like Yuexiu and Guangzhou to refinance their debt.
Focus on the fundamentals and beware of the rally...
At the end of the day, these aren't healthy companies. And that's a sign the "bull market" in Chinese real estate isn't sustainable in the long term.
On top of these two struggling property developers, a default from the likes of Country Garden would have an even larger effect on China's real estate sector than the Evergrande fallout... given that Country Garden oversees four times the number of projects.
It narrowly avoided default this time. However, the fact that it was so close is a concern itself. If Country Garden has anymore issues paying interest, investors might get even more spooked. 
For now, we suggest you steer clear of the Chinese real estate market. Don't get caught up in the rally... especially when it looks to be on borrowed time.
Regards,
Joel Litman
September 7, 2023