The Little-Known Link Between Boston, Biotech, and Housing
Thursday, August 18, 2022
The pandemic made Moderna (MRNA) a household name...
The Boston-based biotech company was one of the biggest winners of the past few years thanks to its COVID-19 vaccine.
The company unveiled its shot in late December 2020. Since then, the U.S. has administered more than 228 million Moderna doses, according to the Centers for Disease Control and Prevention ("CDC") COVID Data Tracker. The company's revenue soared from $60 million in 2019 to nearly $18.5 billion in 2021.
To meet such strong vaccine demand, Moderna has completely overhauled its business model. The company invested aggressively... expanding its manufacturing facilities to keep up with capacity. It hired new people to grow its research and development (R&D) team.
And the impact of these changes reached beyond the walls of Moderna headquarters...
The company is located right next to Boston, in neighboring Cambridge. As shares soared, its workforce beelined for the Boston housing market to spend their stock compensation rewards. One locally based realtor told the Wall Street Journal that she dubbed it the "Moderna halo effect."
Here at Altimetry, our headquarters is also in the Boston area. Many of our employees live here. We've noticed that the already strong housing market has exploded in the past few years. And Moderna is at least partly to thank for that.
The real estate boom wasn't limited to Boston, either...
It should come as no surprise that, as housing demand surged across the U.S., realtors benefited.
We recognized this trend back in July 2020 – and it led to one of our best recommendations in our Microcap Confidential monthly advisory. We're talking about cloud-based real estate brokerage eXp World (EXPI).
The company's asset-light business model allowed our subscribers to lock in steep returns. We first told readers to sell half of their position for a 100% gain a month after our initial recommendation... and closed another half in February 2021 for a gain of 859%. We recently sold the rest of the position for a combined gain of 358%.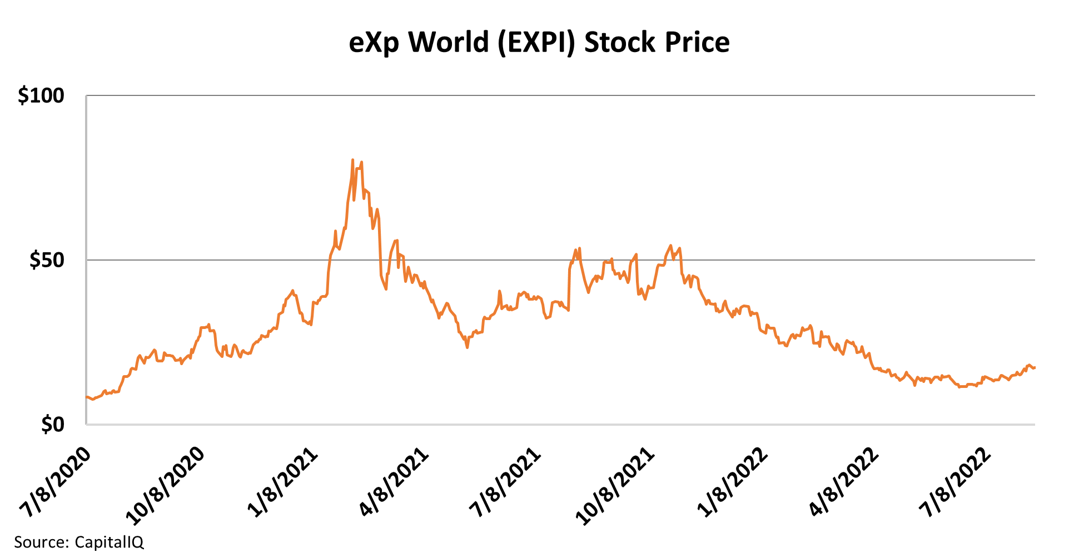 To understand the power behind eXp World, we can take a closer look using our Altimeter tool. It grades companies by cutting through the noise of generally accepted accounting principles ("GAAP") and leveraging Uniform Accounting metrics.
The company's as-reported return on assets ("ROA") was a modest 12% in 2020, and fell to 7% in 2021. Cost of capital is around 6%, so that's not too impressive. And remember, that was despite the sky-high housing market... So it looks like the company was missing out.
But Uniform Accounting takes out the distortions in eXp World's returns. This cleaner picture shows its demand rocketed higher during the pandemic.
The Altimeter shows Uniform ROA was really 96% in 2020. It climbed to nearly 109% in 2021, earning the company an "A" grade for Earning Power. In fact, eXp World gets "A" grades across the Performance board.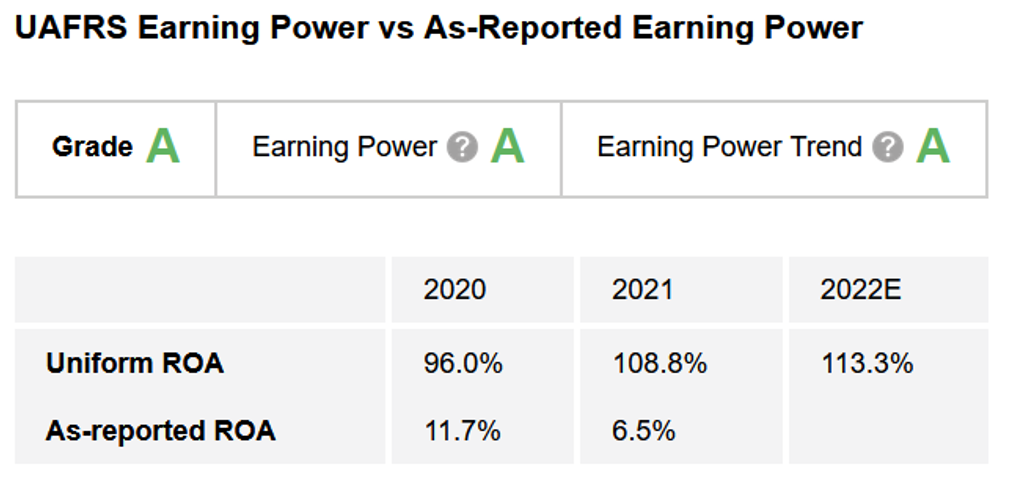 The company's Altimeter grades are expected to remain strong this year. That being said, we think the real estate market will face more challenges in the long run.
Although housing markets like Boston boomed because of biotech, the market in general is starting to slow down. Rising interest rates are making homes more expensive.
Based on these challenges, we felt it was right to step aside from eXp World for now. But Uniform Accounting and the Altimeter allowed us to book three triple-digit gains when this trend was going strong.
Regards,
Rob Spivey
August 18, 2022