The 'Pros' Almost Missed This Pandemic Recovery Story
Wednesday, August 24, 2022
Peloton Interactive (PTON) has a timing problem...
The exercise-bike maker was one of the largest beneficiaries of the pandemic lockdowns. When people were trapped in their homes, Peloton's gear offered a way to stay fit.
But like the shutdowns, Peloton's time on top was temporary.
Sure, demand surged in 2020... But it wasn't because consumers were choosing Peloton over gyms. It was because they were choosing Peloton over nothing.
So many people ordered Pelotons at the height of COVID-19 that the company couldn't keep up. Thousands of bikes were stuck on back order. In 2021, it even announced it would build a $400 million factory in Ohio to address production shortages.
Now, Peloton is finally producing enough bikes and treadmills to meet 2020 demand. There's only one problem – that demand has evaporated.
As vaccines rolled out and mask mandates were lifted, people flocked back to the gym. This left Peloton scrambling.
The company laid off 2,800 employees earlier this year. It plans to cut another 800 to reduce costs.
Peloton is also raising the prices of its bikes and treadmills in a desperate effort to increase cash flows (and lean into its "high end" branding). And in February, it scrapped its plans to build the new factory.
Exercise bikes were the perfect solution during the pandemic. But it looks like much of the market has moved on from at-home workouts today.
That's great news for traditional gyms...
In the post-pandemic world, businesses like Planet Fitness (PLNT) will capture the most powerful spending trends.
Planet Fitness was hit hard by the pandemic. But now, it's resurging as one of the most popular fitness options in 2022. The company reported more than 16.5 million members in the second quarter, up from 14.8 million in 2021.
The market has taken notice of this rebound. In March 2020, Planet Fitness stock dropped from $88 per share to $34 per share. Today, prices have rebounded to more than $70 per share.
But the market didn't always believe in this company.
Back in 2017, Planet Fitness was weighed down by huge tax liabilities on its books. This scared off investors. They believed that these problems would keep weighing on the business, dragging Planet Fitness down for years to come.
And as-reported numbers only compounded these worries.
If you look at the company's generally accepted accounting principles ("GAAP") financial statements, you won't be impressed. As-reported return on assets ("ROA") was 9% in 2018. This only improved to about 10% in 2019 before plummeting in 2020 due to the pandemic.
Considering that the corporate average ROA is 12%, Planet Fitness doesn't look like a stock worth investing in...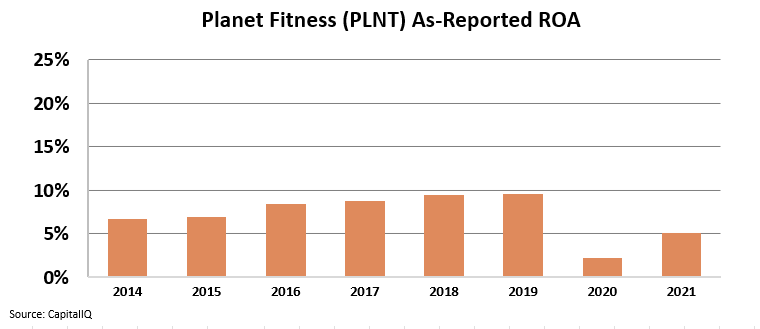 These numbers don't suggest a company that's geared for success. So it's no surprise that Wall Street stayed far away.
But GAAP financials are full of discrepancies. These errors make accurate evaluations of companies almost impossible.
Unlike Wall Street, at Altimetry, we've been a fan of Planet Fitness since 2017.
We brushed off the high-tax liabilities in 2017 because we understood that they wouldn't be a recurring issue. But most important, we had Uniform Accounting to show us the true story for Planet Fitness.
Here's what the Uniform numbers showed us about Planet Fitness...
Despite the market's concerns in 2017, the company still earned a 65% Uniform ROA. That number climbed to 69% in 2018 and stayed near those levels in 2019.
Planet Fitness was even able to achieve 24% returns in 2020 during the pandemic. That means when the company was temporarily closing locations across the country, its returns were still double the corporate average.

Eventually, Planet Fitness did make its way off Wall Street's Blacklist. From 2017 to 2019, its stock price climbed steadily. And it has rebounded since the pandemic brought business to a standstill in 2020.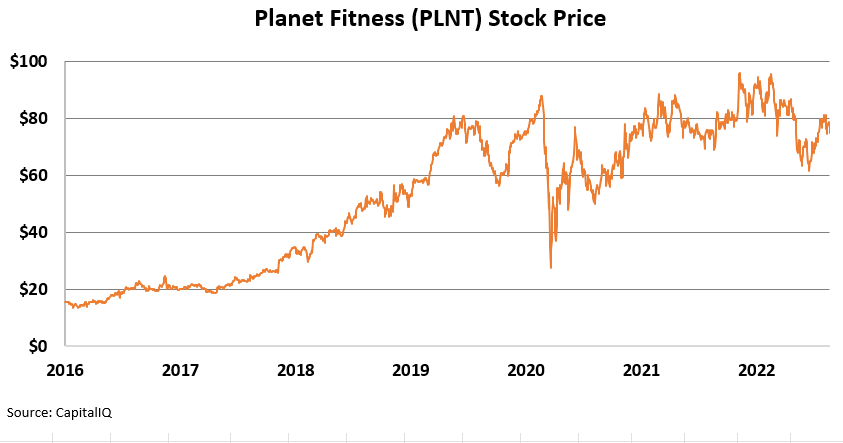 Planet Fitness was always a strong business with sound fundamentals. But that didn't stop Wall Street from blacklisting it for years. Because of this, many investors missed out on its impressive rise.
Regards,
Joel Litman
August 24, 2022
Editor's note: Uniform Accounting can help you identify the stocks that don't belong on Wall Street's Blacklist – before the market catches on. And Joel believes his system has just detected the experts' next rare "mistake"...
He recently put together a critical new briefing explaining the massive potential in a tiny $7 stock (and how it could be a 20-bagger in the making). Joel says this could be the biggest "no brainer" opportunity in the markets today... But you have to act fast. Get the details here.