The Sports Memorabilia Market Just Dialed Up a Few Notches
Over the past year, folks flush with cash had few places to spend it…
With vacations out of the question and bars and shops closed, extra income went into investment vehicles of all stripes.
For example, bitcoin and other cryptocurrencies resurged in popularity in late 2020 and early 2021.
And the next step in the evolution of the blockchain technology that backs cryptos is non-fungible tokens ("NFTs"). An NFT uses the blockchain to certify that a digital photo, video, or another type of file is authentic and one of a kind.
In March, digital artist Beeple made headlines when his NFT fetched an eye-popping $69.3 million at a Christie's auction.
The NFT market for sports replays, pop culture video clips, and other digital memorabilia is now in full swing.
This month, Mexican soccer team Club Necaxa announced its NFT, which comes with a 1% stake in the club.
The auction for the Club Necaxa Token will be held through June 18, with opening bids at around $1.3 million.
The 1% stake tied to the NFT is in perpetuity and can't be diluted by any share issuances. Furthermore, it's transferrable if the owner would like to sell it later.
While this stake comes with no voting rights, it is a real stake in every other metric. The owner is entitled to 1% of the company's cashflows. 
The Club Necaxa Token sale is a publicity move as much as an equity raise.
While an NFT is a novel way to sell a stake… Club Necaxa isn't the first traded sports team.
Many sports teams looking for capital will turn to more traditional equity markets than an NFT auction.
It's easy to think of a sports team or club as just the coaches, players, support staff, and some mysterious billionaire owner pulling strings in the background. But it's a business looking to make a profit.
For example, we wrote up an article about the public listing of the New York Rangers and the Knicks last October.
And in the world of soccer (or "football" outside the U.S.), some popular teams are publicly traded – Germany's Borussia Dortmund (BVB.DE), Italy's Juventus Football Club (JUVE.MI), and U.K. heavyweight Manchester United (MANU).
Some diehard fans would love to own a share of their personal sports team, no matter the price. But investors will want to put team loyalties aside to see if these are good businesses to own.
Today, let's take a closer look at Manchester United's fundamentals using our Altimeter tool…
Using the power of Uniform Accounting – which removes the distortions in as-reported financial metrics – The Altimeter breaks down stocks into easily digestible grades based on their real financials.
After we clean up the distorted GAAP numbers, we can see that Manchester United has robust profitability historically. And analysts forecast 2021 to be no different. With a 19% return on assets ("ROA") – healthily above corporate averages of 12% – Manchester United gets a "B" for Earning Power.
And with relatively stable returns but growing earnings, Manchester United earns an "A" for Earning Power Trend.
Putting it all together, Manchester United earns an overall "B" for Performance. Using this example, we can see that sports companies can make a strong profit by providing popular entertainment.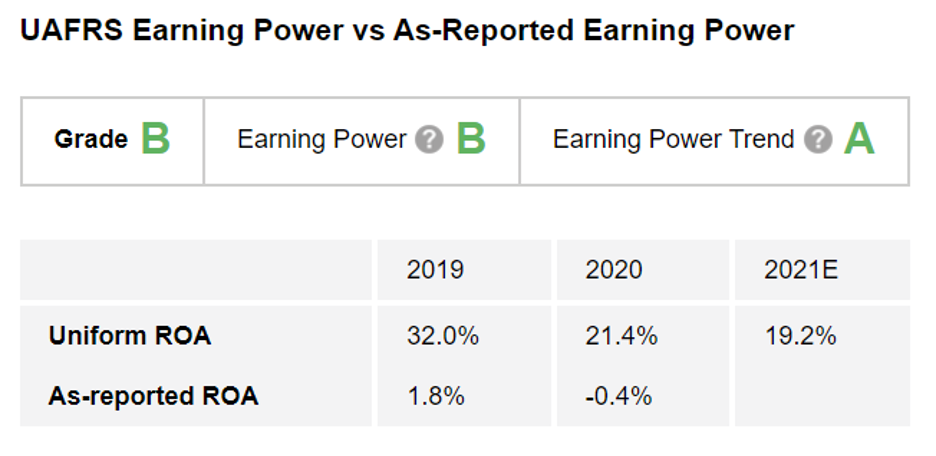 Thanks to The Altimeter, we can brush aside the misleading as-reported returns and see the real profitability of the business.
These historical returns can put Manchester United in context… but they can't tell investors whether the stock is a buy.
We need another piece of the puzzle. We also need to look at what the company is priced to do. And The Altimeter has the answers…
Altimeter subscribers can click here to see how Manchester United is valued based on Uniform Accounting… and if the market is clued in on how strong the soccer club is.
If the market is undervaluing Manchester United, MANU shares could be primed for upside ahead.
The Altimeter is a veritable "stock truth detector," which allows you to see the full grading for more than 4,000 other U.S.-listed companies – as well as the real valuations for Manchester United.
Get more details about The Altimeter right here.
Regards,
Rob Spivey
June 17, 2021