The Winner in Protecting Your Building's Air When You Return to the Office
Friday, September 4, 2020
Joel's note: Both the market and Altimetry are closed on Monday for Labor Day, so look for the next Altimetry Daily Authority on Tuesday, September 8. I hope everyone has a safe and enjoyable weekend.
---
In recent years, the number of perks that companies offer employees has only increased… 
Perks are a way for businesses to attract the best talent on the market and to keep current employees happy. An increase in perks has been the trend in every industry, yet has been most heavily concentrated in startups and tech-focused companies, due to their constant jostling for the top talent. These firms offered branded swag, lunches, and even spa treatments.
However, the coronavirus pandemic has forced much of the U.S. workforce to work from home. With nobody in the office, it became nearly impossible for businesses to offer the same perks to their employees. And as the Wall Street Journal explained last month, companies have had to alter the perks they offer to fit the changing environment.
At the beginning of the work-from-home shift, many companies started hosting happy hours or trivia via Zoom Video Communications (ZM) or other virtual platforms. However, as the work-from-home environment has now dragged on further into the year, companies are beginning to adapt and improve their offerings. 
Some businesses have engaged in virtual ukulele-training classes or wine tasting with a sommelier. Others have begun to offer meditation applications or set up virtual dog parks. 
As we've mentioned before, companies are always battling for talent. Even in a time of high unemployment, competition for the best workers in any field is extremely stiff. As many companies announce long-term extensions to work from home, updating perks will be necessary… Both current employees and people on the job hunt will continue to keep perks in mind when mapping out career moves. 
Along with figuring out work-from-home perks, businesses are also thinking about how to get staff back in the office…
To do so, companies need to make investments to ensure the safety of employees. And one of the most important aspects of safety during the pandemic is having proper HVAC systems.
This isn't a concern for just office buildings, either. Many schools, public indoor areas, and businesses are in the process of updating these systems, or are planning to in the future. Many ventilation and HVAC units weren't built with a pandemic in mind. As such, a big market now exists for new systems that can reduce the risk of spreading the disease. 
One company primed to take advantage of the increased demand is Comfort Systems USA (FIX). It's right at the heart of the ventilation and HVAC upgrade work, both with new and old buildings.
The firm also focuses on other areas… It has revenue streams from plumbing, mechanical and electrical maintenance work, and fire protection. 
Comfort Systems' strategy in recent years has been to buy competitors in the market. For example, the firm acquired TAS Energy earlier this year and Walker TX last year.
This has allowed Comfort Systems to grow its market share and revenues, but the company's as-reported return on assets ("ROA") has barely budged while the firm has seen as-reported asset growth rise from acquisitions. It appears Comfort Systems isn't actually improving, as seen by its relatively flat as-reported ROA – below corporate averages in 2017 and 2019.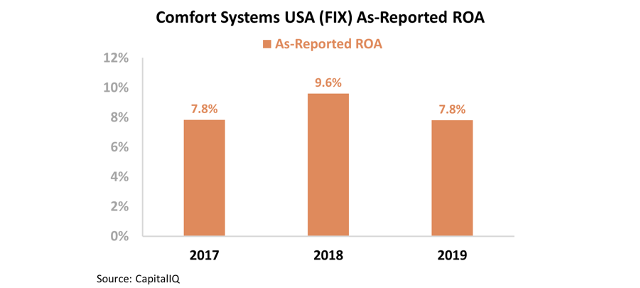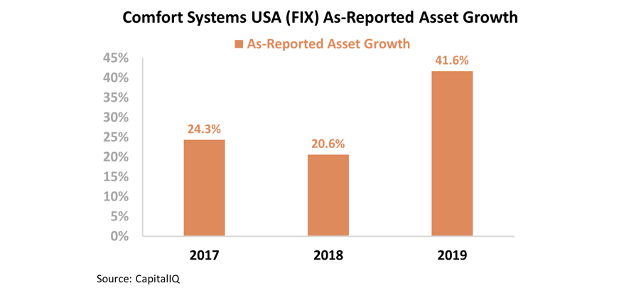 This strategy of funneling money into a business that isn't improving has put off investors. Instead of investing more cash into a company with low returns, shareholders would likely be happier with Comfort Systems returning capital to them through a dividend or share buybacks.
But in reality, the company's strategy isn't nearly as bad as as-reported metrics reflect… and investors shouldn't be clamoring for it to stop investing anytime soon. 
As usual, GAAP metrics have distorted the company's profitability. Since Comfort Systems has been involved in a handful of acquisitions in recent years, accounting around goodwill, among other distortions, is misrepresenting the firm's returns. 
As Uniform Accounting shows, Comfort Systems' strategy is working. The company has been able to consolidate the space and has gained operating efficiencies by removing excess capacity… meaning that its Uniform ROA has risen from 23% in 2017 to 29% last year. This is despite the company still investing aggressively… when looking through the Uniform Accounting lens, Comfort Systems' real asset growth has also been robust – reaching 18% in 2019.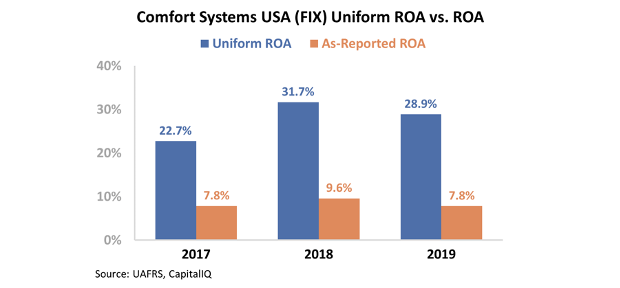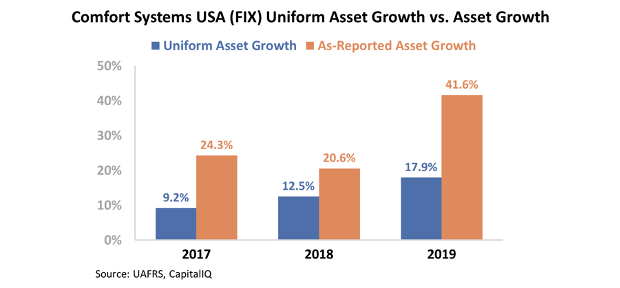 Comfort Systems' plan has clearly worked historically… But to properly value the company, we need to look to the future. To understand market valuations, we can use the Embedded Expectations Framework. 
The chart below explains Comfort Systems' historical corporate performance levels, in terms of ROA (dark blue bars) versus what sell-side analysts think the company is going to do in the next two years (light blue bars) and what the market is pricing in at current valuations (white bars).
As you can see, sell-side analysts believe Comfort Systems' Uniform ROA will continue to grow this year due to positive tailwinds, with a slight decline in returns though 2021. However, the market is pricing in Uniform ROA to fall to 19% in 2024, which would be its lowest level in five years.

The market appears to be looking too deep into the as-reported numbers, and seeing only poor performance metrics. 
Uniform Accounting is able to demonstrate that Comfort Systems has consistently been able to successfully execute its plan. Furthermore, the company has positive tailwinds for its HVAC and ventilation systems business and will likely see increased demand for an extended period of time thanks to pandemic-driven retrofits.
Without Uniform Accounting metrics, investors might miss out on this profitable company that continues to grow.
Regards,
Joel Litman
September 4, 2020