This Lucky Billionaire Might Be Calling a Market Top
Every once in a while, someone gets lucky...
Just ask the person who placed a $5 bet on the Kentucky Derby last year, predicting the top three finishers in order. This "trifecta" bet paid out $74,000.
You might think someone who made nearly 15,000 times his money would want to share their secrets... but the bettor remained anonymous.
This year, nobody won the Kentucky Derby trifecta. Whoever emerged victorious last year couldn't replicate their results... because the bet was pure luck.
Luck can make for a fun gamble once in a while. But that alone doesn't make for a profession.
That's the risk of focusing on the outcome over the process. You can get caught up with someone who has hit a few lucky home runs. But their results aren't going to be repeatable in the long run.
That brings us to Masayoshi Son, a Japanese billionaire and the chairman of multinational investment corporation SoftBank (9984.T)...
Son got lucky once. And since then, he has had success buying at the top of multiple markets.
He called the tops of those markets about as successfully as the shoeshiner or cabbie in many a Wall Street lore. And now, he's giving us confidence that we're at the top of another market.
Today, we'll talk about what Masayoshi Son is doing... and what's waiting for him in his latest market venture.
SoftBank came from humble beginnings...
Son founded the company in the early 1980s as a distributor. It later became a technology and telecom company.
Over the years, SoftBank has been involved in more than a hundred business transactions. What's left is a company whose Uniform return on assets ("ROA") has hovered between 0% and 2% for the past half-decade. It has never sustainably been above 10%.
As SoftBank grew, it lost its spark. Have a look yourself...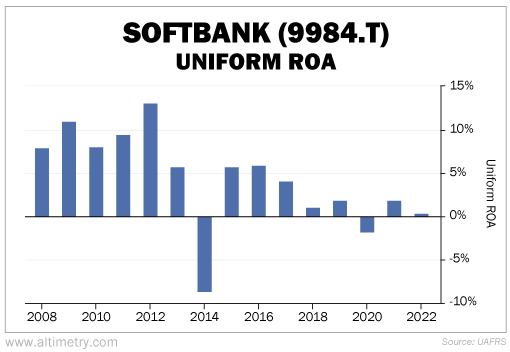 Son's one claim to fame – his "proof of genius" – is that he was at the right place at the right time with Chinese e-commerce giant Alibaba (BABA) in 2000. He turned a $20 million investment into $60 billion by the time Alibaba went public in 2014.
But that was like being the lucky Kentucky Derby gambler who hit a trifecta... especially when you look at all his other deals.
Consider when he invested in a controlling stake in telecom business Sprint Nextel. Son lost $38 billion in free cash flow over eight years before he finally managed to offload the company onto T-Mobile U.S. Even then, the deal was conditional on him taking shares instead of a cash payout.
Another example is his 2016 acquisition of chipmaker ARM. Son paid $32 billion to acquire the low-power chip designer at the height of interest in its chip designs for phones. The business stagnated... and now, the company might go public for as little as $30 billion.
It's clear that Son's biggest success was pure luck. But he managed to turn that luck into one of the biggest investment vehicles on the planet...
Son created the Vision Fund, which writes massive checks at inflated valuations to struggling tech companies.
That's how he bought 15% of ride-hailing giant Uber Technologies (UBER) before it went public... and subsequently lost about $5.2 billion in value within a year of its initial public offering.
He has also invested more than $10 billion in coworking disaster WeWork (WE) since 2017. That investment has proven to be largely worthless. The fund's position is now valued at $270 million.
Son's most recent venture doesn't look any more promising...
SoftBank now plans to become a lender in the $1.5 trillion world of private credit.
We've written extensively about the problems unfurling in private credit (also known as shadow banking) this year. The shadow-banking market is already on thin ice. SoftBank's venture into the market sets off massive alarm bells.
From where we're standing, Son has a better track record of hitting market peaks than big winners. The private credit industry continues to get riskier. And it seems like he has successfully spotted the peak once again.
Son's move into the industry gives us even more confidence that the credit market may be rolling over. You should continue to be cautious about the market.
Regards,
Rob Spivey
May 31, 2023