What Warren Buffett Saw in Oil... That Nobody Else Did
Legendary investor Warren Buffett kept his cash for the right time...
In 2019, oil-exploration company Occidental Petroleum (OXY) saw a key opportunity to expand.
Oil prices had been in the dumps for years following the 2014 oil glut. And many of the smaller players in the industry couldn't keep operating with oil selling for less than $60 per barrel.
But Occidental saw this as a chance to grow its business. It decided it could snap up the competition while it was cheap. Specifically, it had its sights set on Anadarko Petroleum...
The $38 billion acquisition would make Occidental the largest producer in the Permian Basin – an oil-rich area in the southwestern U.S. It would also make the company one of the top oil producers in the world.
The problem was that management couldn't find anyone to finance the investment...
Investors were skeptical that such a huge bet would pay off. At the time, it was one of the industry's largest mergers. Even more, it put the company at risk if oil prices continued to fall.
Then, in walked Warren Buffett...
While other investors shied away from the deal, the "Oracle of Omaha" contributed $10 billion to financing. Shortly after, Occidental was able to complete its acquisition of Anadarko.
Today, we'll reveal exactly what Buffett saw in Occidental that led him to invest when nobody else would. As you'll see, even when things look bleak, there are still opportunities to profit...
Buffett looked like he was making a crazy bet...
After all, there seemed to be little room to profit.
When Buffett invested in Occidental in 2019, the company's Uniform return on assets ("ROA") was basically zero. And aside from one year of profitability in 2018, Occidental was on a five-year streak of either losing money or barely eking out a return.
Investors were worried that the good times were over for Occidental and the rest of the oil industry. No one wanted to put money into these stocks.
But that made the deal much more lucrative for Buffett...
Since nobody else would give Occidental money, Buffett got the company to pay him an 8% annual dividend on his $10 billion investment. That meant Occidental had to pay Buffett $800 million every year... regardless of its performance.
Worst-case scenario, the acquisition didn't help lift returns. But even then, Buffett would still earn an annual 8% on his investment.
On the other hand, if the acquisition was successful and the company's returns started improving, Buffett was looking at huge potential upside...
Buffett knew that oil prices weren't going to be in the dumps forever. Eventually, they'd start heading higher. And when they did, so would Occidental's returns...
Despite abysmal recent performance, Occidental's Uniform ROA had actually averaged about 6% since 2007.
Take a look...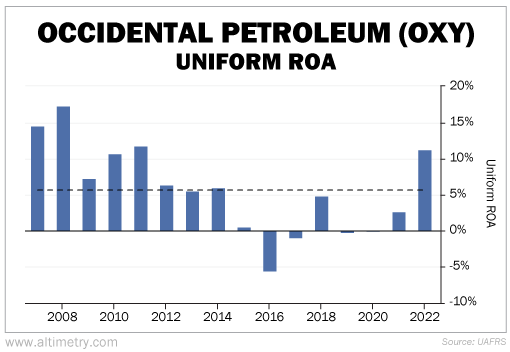 Buffett believed that oil companies would climb out of their cyclical trough. Eventually, demand for oil would pick back up, and prices would rise.
And when oil prices mostly held strong from 2007 to 2014, Occidental had few issues with profitability.
Buffett was betting that would happen again...
Now, oil prices did drop nearly 50% in 2015 – and it cratered Occidental's performance.
But they were able to recover thanks to the post-pandemic energy demand. And as you can see in the chart below, the Ukraine war pushed oil prices even higher...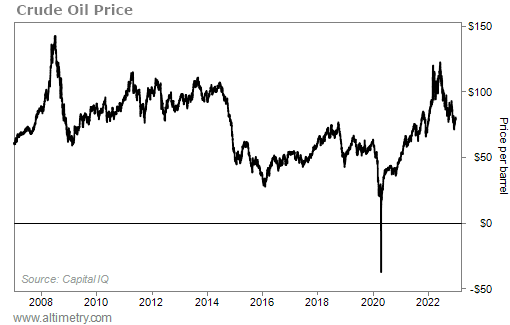 Of course, Buffett couldn't have known we were heading for a global pandemic or a war that would give rise to an energy crisis.
He made a calculated bet that if oil prices stayed low, he'd still collect his $800 million every year. And if oil prices recovered, as they have since he invested, he'd make even more.
Buffett's bet paid off in a big way...
Four years later, Occidental is back on its feet. Buffett has received several billion dollars in dividends.
Even more, the company is ready to refinance... It started buying back Buffett's preferred shares at a 110% premium last month.
Because Buffett was willing to wait until Occidental was desperate for funding, he was able to lock in a more than 8% return since 2019.
He had the confidence to pounce on an opportunity that other investors shied away from... And he profited big time.
Even in today's market – when things look as bleak as ever – there are still opportunities for upside. And while we may be closing in on a recession, that's no reason to walk away from the market completely.
Keep an eye out for opportunities that the market seems to be giving up on. We still think the supply-chain supercycle is going to power the next bull market. And there are plenty of infrastructure-related stocks that are being overlooked because investors are spooked by the upcoming recession.
Regards,
Rob Spivey
May 17, 2023
Editor's note: Even in a shaky market, there are still plenty of buying opportunities... if you know where to look. Altimetry founder Joel Litman says an upcoming market event is about to create one of those opportunities. And it's only a little more than a month away...
Joel recently shared his top six ways to take advantage of this critical catalyst – stocks that he believes could lead to 5 times gains in the coming months. Plus, he revealed his exclusive "blacklist" of companies to stay away from as things play out. Learn more here.