A Classic GAAP Blunder Hides This Payment Firm's Real Profitability
Tuesday, November 3, 2020
The theory is that after an auction, the winner regrets his bid. He tends to feel as if he overpaid. 
The classic example is buying a house. Buyers generally compete in an auction with other bidders. Counteroffers will drive up the price until only one buyer is happy. This is beneficial for the seller, as a buyer will pay the highest potential price. 
Eventually, one person will win the auction after the other bidders back out. However, this may lead the winner to worry that he overpaid... since nobody else was willing to go as high. 
Another market with the winner's curse is corporate acquisitions. Many occur with incomplete information. 
Acquired companies generally won't advertise their shortcomings openly to prospective buyers. This leaves acquirers with regret once they see the type of business they really bought.
This is why it's vital to separate the smart and the frivolous acquirers...
One serial acquirer is Global Payments (GPN). We discussed the company in the October 9 Altimetry Daily Authority... but today, let's continue the dialogue on how mergers and acquisitions (M&A) distort GAAP metrics.
Global Payments is a payment technology and software solutions firm. The company offers merchant, issuer, business, and consumer solutions. It allows merchants to accept credit and debit cards, while taking 1% to 2% in fees. 
Over the past few years, the payment space has consolidated. Global Payments is one of the players at the center of this trend... Since 2015, it has acquired 12 companies within the industry.
The two largest have been a $4.5 billion acquisition of Heartland Payment Systems and a $26.7 billion purchase of Total System Services. The Total System acquisition expanded Global Payments' payment-processing abilities. 
Investors certainly don't appear to be concerned about the winner's curse for Global Payments. GPN shares have outperformed the market since the company first announced the Heartland acquisition in 2015. After a brief dip earlier this year, the stock has been on a steady march higher – up roughly 130% over the past five years. Take a look...

Considering Global Payments' acquisition strategy leading to market dominance in the payment space, most investors would expect the company to produce above-average returns.
And yet, looking at the company's as-reported return on assets ("ROA"), Global Payments seems to be suffering from declining and below-cost-of-capital profitability. Its as-reported ROA has fallen from 11% in 2010 to 2% in 2019. It appears that the company's acquisitions have been value-destroying.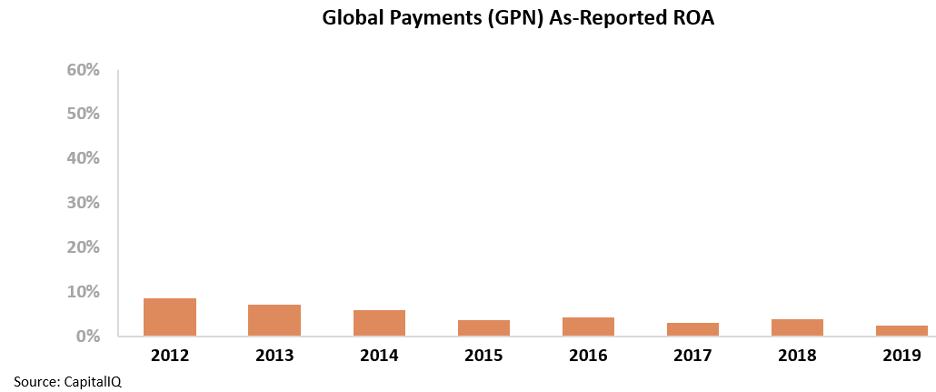 However, this picture of Global Payments' performance is inaccurate... and yet again, it's due to the problems with GAAP metrics. Thanks to distortions around the treatment of amortization and goodwill, Wall Street has missed the mark on Global Payments' profitability.
Global Payments' big acquisitions have distorted the company's as-reported asset base, since GAAP accounting makes companies put goodwill from an acquisition on their balance sheet. 
Once we adjust for this accounting "noise," we can see that Global Payments' Uniform ROA has been at least 7 times higher than the as-reported numbers since the Heartland acquisition was announced in 2015. Global Payments' Uniform ROA jumped from 29% in 2015 to 52% in 2016 as the company completed the Heartland deal. 
And even as Global Payments has integrated Heartland, returns still haven't fallen to pre-2015 levels. Just last year alone, Global Payments' Uniform ROA was 37%, compared to the as-reported 2% figure.

Ultimately, Global Payments has successfully "rolled up" industry competitors to generate above-average returns. Profitability may even bounce back to pre-Total System acquisition levels after Global Payments completes the integration. 
But without Uniform Accounting adjusting for acquisitions, investors would miss these strong returns. They might see Global Payments as a company with cost-of-capital returns instead of robust profitability. 
Consolidating competitors, gaining scale, and reducing costs have all clearly benefitted Global Payments... and the company has every reason not to worry about the winner's curse.
Regards,
Rob Spivey
November 3, 2020