Securities Analyzed
AMZN
EBAY
ISRG
NVDA
PYPL
TSLA
How eBay Made '30x' While Investors Just Watched
Securities Analyzed
AMZN
EBAY
ISRG
NVDA
PYPL
TSLA
Sometimes, it's hard to remember life without PayPal (PYPL)...
The online-payments giant is valued at more than $100 billion today. And it handled more than 19 billion transactions last year, worth more than $1.2 trillion.
But the thing is... PayPal had to start somewhere.
It's amazing to think eBay (EBAY) bought PayPal for just $1.5 billion in 2002...
PayPal was just a small money-transfer service back then. In fact, it was actually a side business of online bank Confinity and the brainchild of venture capitalist Peter Thiel.
That is, until our favorite entrepreneur stepped in...
We've talked a lot about Elon Musk over the past few days. We've discussed both his pending acquisition of social media company Twitter (TWTR) and his biggest success, electric-car maker Tesla (TSLA).
But many folks forget that Musk also used to own 12% of PayPal...
Thiel's Confinity merged with a Musk's X.com in March 2000. The combined company rebranded as PayPal. Musk became the company's CEO and its top shareholder.
Then, when eBay bought PayPal two years later, Musk netted $176 million. He had invested $12 million to launch X.com. So in the end, his total return equaled more than 1,300%.
PayPal stayed private until 2015, when eBay spun it out at a $46 billion valuation. In other words, eBay did even better than Musk... It made 30 times its initial investment.
In 2015, PayPal's stock opened at $34.69 per share. And it closed yesterday at $87.51 per share – a roughly 150% gain.
That's a solid return for about seven years. But it isn't 1,300% or 2,900%.
As you can see, Musk's return in PayPal's early days dwarfed recent investors' returns by almost 10 times. That type of outperformance shows us why it's important to get in early.
These days, PayPal continues to innovate and grow. It now operates money-transfer brands like Venmo, Xoom, Honey, and Zettle. And it has added features like "Buy Now, Pay Later."
With that in mind, let's use the Altimeter to look at PayPal's performance...
Remember, the Altimeter is easy to use. It provides users with basic grades to help them rank stocks on their real financials. And today, we can see how PayPal is performing...
PayPal is firmly in the middle of the e-commerce boom. That's a big reason why the company earns a "B" for its performance today. It produces high-quality, stable returns.
More specifically, the company's strong 25% Uniform return on assets ("ROA") earns a "B" for Earning Power. And its Earning Power Trend is a "C" today. That factor within the Altimeter tracks a company's year-over-year earnings growth. Take a look...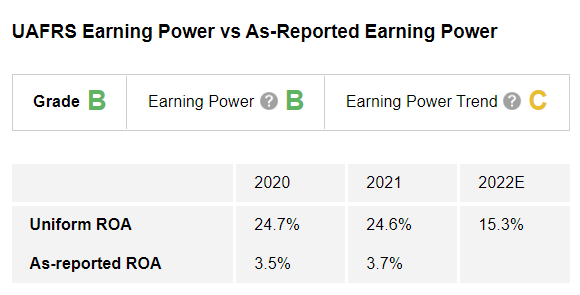 As PayPal grew from a tiny startup to an online-payments titan, public investors missed most of the big gains. Instead, insiders like Musk and the executives at eBay enjoyed the biggest upside.
Now, the company's market cap is greater than $100 billion. And in order to match Musk's 1,300% return, investors would need its value to soar to roughly $1.4 trillion. That would be larger than Amazon (AMZN) or Tesla.
In short, for the biggest upside, you need to get in at the ground floor...
And if you want the best chance to find companies like that, you need to look at "microcaps."
PayPal's 150% return for investors since 2015 is impressive. But it's not a transformative type of return. Here at Altimetry, we want to help our subscribers uncover those types of gains.
Take graphics-chip maker Nvidia (NVDA), for example...
Nvidia was valued at around $230 million in January 1999. Today, it's worth around $465 billion.
To keep its individual share price affordable, Nvidia has issued five stock splits since its initial public offering ("IPO") – including a 4-to-1 split last July. But still, if you had invested in Nvidia when it first went public at $12 per share in 1999, you would be sitting on a whopping return of about 50,136% right now.
Intuitive Surgical (ISRG) is another example. Less than 20 years ago, the robotic-surgery company's market cap was around $120 million. But now, it's a $78 billion company. And its earliest investors could've made more than 10,959% in that span.
It's next to impossible to see those kinds of returns from megacaps. They're just too large.
That's why we spend so much time hunting for microcaps. Specifically, we look for public companies worth less than $1 billion.
We're looking for businesses like PayPal, Nvidia, or Intuitive Surgical before they become PayPal, Nvidia, and Intuitive Surgical.
They're the types of opportunities that can turn 100 shares for $1,200 into more than $1 million.
We're targeting one specific microcap right now...
We just released a brand-new research report on this company to our Microcap Confidential subscribers. It's one of our favorite tiny companies. And we believe it could start exploding higher any day.
This misunderstood auto-parts maker has fallen off the market's radar. But one of the greatest investors of the past four decades is taking notice today – and so are we.
As I said, this report is available to all Microcap Confidential subscribers. And right now, you can claim instant access for 50% off the regular price. Get all the details right here.
Regards,
Rob Spivey
June 9, 2022