The Acceleration of 'IoT' Is a Growth Driver for This Tech Company
Tuesday, September 28, 2021
Lax security protocols could mean your Tesla (TSLA) is vulnerable to hackers...
The Internet of Things ("IoT") will change how we use technology in our everyday lives, connecting previously analog devices, such as cars or homes, to an online network.
As the world becomes ever more connected, it's critically important to make sure sensitive personal data, such as financial or health information, remains secure.
That's why we must take a step back to consider a major potential issue: security.
Unfortunately, there are many horror stories about IoT-related technologies with poor security being manipulated by hackers.
The list includes smart refrigerators being added to armies of "bots" that conduct denial-of-service ("DoS") attacks, where hackers drown systems with a huge number of requests.
Similarly, there have been stories of pacemakers and baby monitors that have been digitally hijacked.
Even chargers used to power electric vehicles ("EVs") can now be hacked, as an Aug. 3 story from TechCrunch points out.
Security firms and researchers reviewing EV charging equipment found that five out of six brands, including ChargePoint, one of the largest commercial charging networks in the country, had significant cybersecurity deficiencies. 
This vulnerability is serious, as an attacker could fiddle with charging voltages or pursue something even more malicious, such as entering a home network. 
It's yet another reminder that cybersecurity best practices don't end with downloading a virus blocker on your computer, and as we all use more and more technology, paying more attention to security solutions becomes essential.
One company offers a potential solution to IoT security challenges...
As the IoT revolution begins to take off, there's going to be a massive need for more investment to protect connected devices, an area that until now has been largely downplayed.
That is where companies like Palo Alto Networks (PANW) come into play. The company provides specific cybersecurity solutions tailored to IoT product security needs.
Palo Alto has been one of the key players in the cybersecurity space for some time now, and its turnkey solutions often get favorable praise in the marketplace. Yet, looking at the company's as-reported financial metrics, you would think otherwise.
Though the company is a market leader in cybersecurity and IoT security, Palo Alto Network's as-reported return on assets ("ROA") has never been above 0%. This suggests the business is unprofitable, burning through cash and losing money for investors.
See for yourself in the chart below...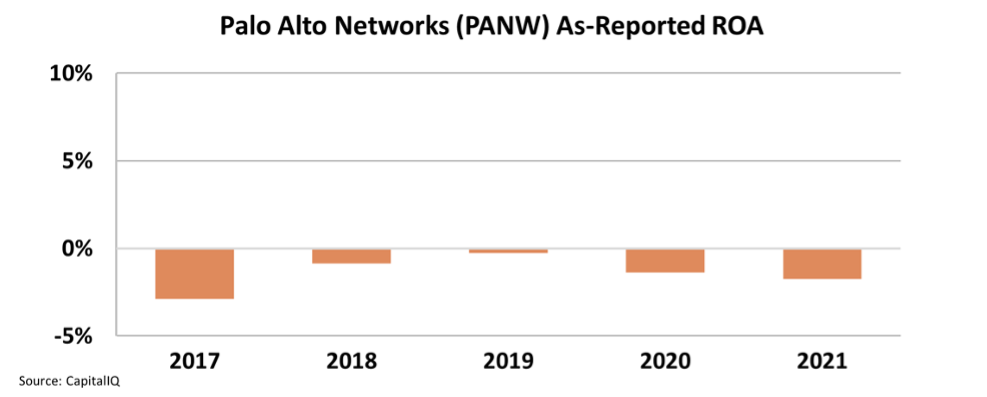 In reality, Palo Alto's strong cyber solution set has allowed it to become a highly profitable business. Using Uniform Accounting, we can see that Uniform ROA was at 60% last year and has been growing, a far cry away from the sustained negative levels suggested by as-reported metrics.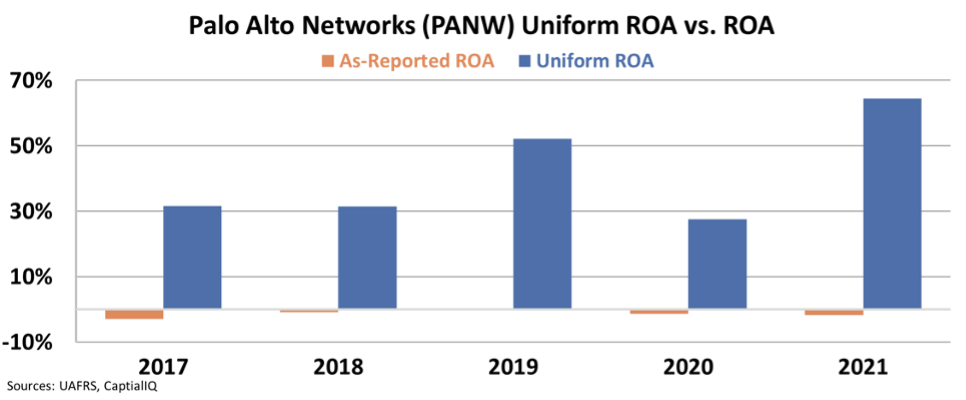 This shows a startling contrast between two different views of economic reality for the business... one based on apples-to-apples comparisons used by the world's best professional investors, and another based on an inconsistent set of accounting standards called GAAP.
After removing the distortions, we can see how individuals and companies are willing to pay for Palo Alto's security solutions. Perhaps someday in the not-too-distant future, EV charging businesses will become customers too... if they aren't already.
As-reported metrics often fail to capture the true picture of a company's profitability...
To unlock alpha, you need to know more about a company than just its initiatives and undistorted profitability. You also need to see the degree to which the market has already priced in future growth.
Through the power of Uniform Accounting, we can use the financial distortions to our advantage for finding stocks poised for big upside ahead...
Each month, in our Altimetry's Hidden Alpha service, we use this analysis to identify large-cap, safe stocks that still have the opportunity for big gains... the recommendations in our portfolio are up more than 40% on average.
To learn more about Hidden Alpha – including how to save 75% off the first year of a subscription – click here.
Regards,
Joel Litman
September 28, 2021