The Winners of 5G Technology Aren't Telecom Companies
Telecom companies aren't the biggest 5G winners...
Many investors would assume the coming 5G adaption is a great opportunity for telecom companies like AT&T (T), Verizon (VZ), and T-Mobile (TMUS).
The new technology means each company could lead in the 5G space. The company that emerges with the best network will take market share from the competition.
And this leadership position will last for at least a decade until a new network technology is developed.
Verizon developed a strong 4G network in 2010 and has been considered the best wireless network ever since.
But the adoption of 5G doesn't mean investors should run out and buy these telecom stocks. One of the themes we've seen many times over the past few months has been that the largest losers of 5G investing are the telecom companies.
Telecom companies are investing billions of dollars in building out their 5G networks, each trying to outspend the others to have the best network.
As a result, the average revenue per user in the telecom industry has steadily declined, leading to a race to the bottom among the big three: AT&T, Verizon, and T-Mobile.
While telecom companies will be big losers, there will be a lot of 5G winners. These will include the telecom equipment companies, such as Ciena (CIEN). We talked in November 2020 about how Ciena will benefit from telecom companies' massive 5G spending.
Additionally, companies that sell data-intensive offerings, previously restricted to home Wi-Fi networks, are now going to be big winners. The greater speeds of 5G networks allow people to use data-intensive services outside of the home.
It's the companies that provide services like streaming, the Internet of Things ("IoT"), and other new technologies like augmented reality, which benefit from 5G innovation without massive capital investment.
This company's data-intensive offerings will benefit from 5G technology...
It's not just the big tech firms benefiting from adopting 5G technology and its sister technology, the next generation of in-home connectivity Wi-Fi 6.
Sonos (SONO), with its high-tech audio equipment, is another big 5G winner. Sonos speakers play music streamed over Wi-Fi. The sound files have to be compressed to send them over Wi-Fi, which reduces the sound quality of the music.
Wi-Fi 6 gives consumers access to faster speeds inside the home. This reduces how much the sound files need to be compressed, which will increase the sound quality of the music played through Sonos speakers.
These same tailwinds also apply to Sonos' out-of-the-home offerings through 5G. Increased data speeds provide a big tailwind for high-quality audio outside of the home.
All these 5G tailwinds have led to a meaningful appreciation in Sonos' stock.
We recently closed out a position in Sonos for more than a 200% profit, a trade we recommended to our High Alpha subscribers last year.
However, as frequent Altimetry readers know, as-reported accounting metrics tend to misstate a company's financial performance.
Using Uniform Accounting, we can clean up the financial statements to determine Sonos' true performance, and we saw Sonos' opportunity before other investors.
On an as-reported basis, Sonos was not a profitable company. In 2020, Sonos generated a 0% return on assets ("ROA"). From 2016 to 2020, Sonos never generated an ROA higher than 1%.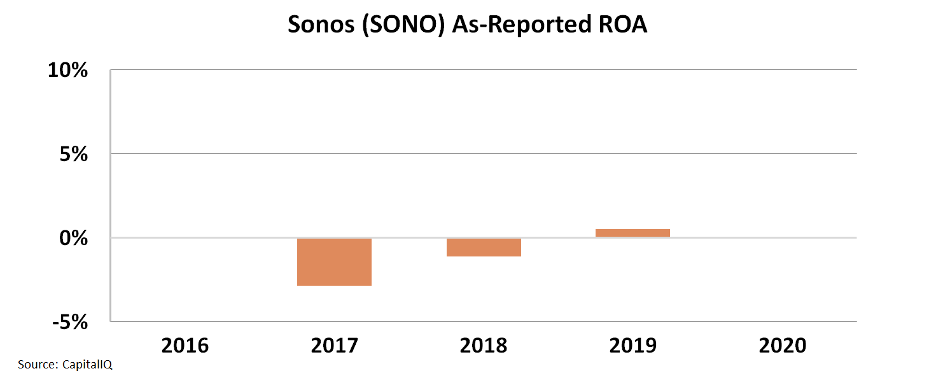 Looking at these Uniform Accounting metrics, we can see that Sonos is a profitable company.
In 2020, Sonos had a Uniform ROA of 7%, much higher than its 0% as-reported ROA. And Uniform accounting also shows that ROA has been positive every year since 2016.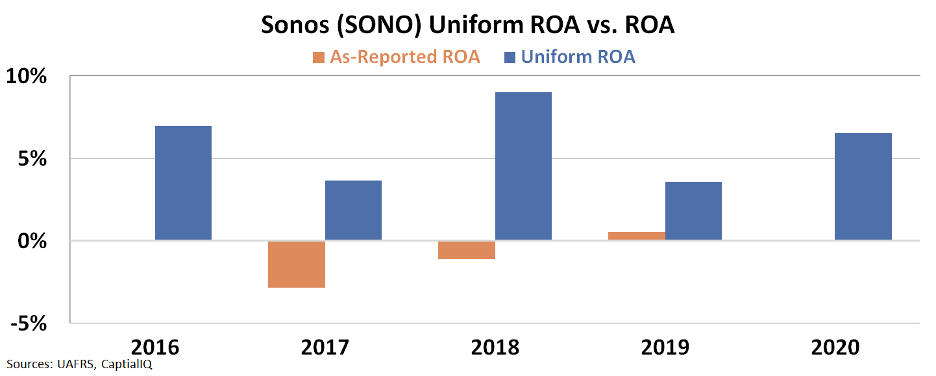 Here at Altimetry, we could see the opportunity in Sonos since we were able to look through the fog of as-reported accounting metrics...
With Uniform accounting, we were able to see the profitability of Sonos.
This analysis, paired with Altimetry's rigorous fundamental analysis, allowed us to suggest this stock to our High Alpha readers last year. If you followed our suggestion and sold when we proposed, you walked away with a 211% gain.
If you aren't already a High Alpha subscriber and are interested in more alpha names for sizable upside, click here.
Regards,
Joel Litman
July 20, 2021