The Biggest Break-in Risk at Home May Be Your Laptop
Wednesday, October 20, 2021
Working from home has presented a new corporate risk...
Last year was a transformational year for so much of our world and the economy. It changed how we thought about work, where we work, how we work, and even when we work.
It also changed how companies had to think about a looming issue brewing for a while. Still, one that is always being pushed off is digital security.
While hacks and breaches have been creating headaches for companies since the advent of the Internet, IT teams were mostly able to apply a Band-Aid approach, patching the holes and continuing operations after a leak. As discussed on October 15, this approach quickly becomes too large of a risk for many companies.
Opening up the entire work suite to be work-from-home compatible for every employee has made companies more exposed than they've ever been, and hackers have caught onto the trend quickly.
For example, office networks are typically secured behind advanced firewalls, preventing hackers from peering into the goings-on of a company. But home Wi-Fi setups may not be so robust.
Now, all that private data, including instant messages, video chats, and file-sharing systems, flow through people's personal systems that companies cannot control. Band-Aid fixes are coming apart, and IT teams don't have the capacity to keep up.
A wave of recent data breaches demonstrates how seriously management teams are taking these issues.
A PricewaterhouseCoopers survey showed that 96% of executives have shifted their focus on cybersecurity due to the pandemic's changes. Another analysis expects global cybercrime costs to grow by 15% per year over the next five years.
Therefore, it is no surprise that, according to PwC, 55% of companies expect to ramp up their cybersecurity spending, even though 64% expect revenues to decline in the coming year.
This just demonstrates that creating an adequate defense against cybercrime has climbed up the priority list for most companies...
The most concerning development may be that experts predict intellectual property to be the next target of cybertheft. Hackers have already been targeting health care and vaccine research companies, looking to sell their coveted intellectual property on the dark web.
Investors should be paying attention to how this step-change in the importance of cybersecurity presents new opportunities for growth and investment.
As we highlighted earlier this week, one of the best places to look for alpha right now isn't in the large-cap and megacap companies we hear about every day. In the cybersecurity space, these well-trodden giants are firms like CrowdStrike (CRWD), Fortinet (FTNT), and Okta (OKTA).
While these giants may see their stocks appreciate as companies spend more on cyber, the biggest multibagger opportunities lie with the smaller players in the room: the small-caps and the microcaps.
This small cap has quietly been making waves in cyber...
One of the ways that many organizations have thought about protecting their data is to be a lot more aggressive about how employees can share documents and get access to shared spaces. To manage this data, alongside many other cyber solutions like firewalls and vulnerability management, companies can turn to Qualys (QLYS).
Qualys has built some of the most bulletproof file-sharing encryption in the cybersecurity business. It allows users to run a corporate-grade firewall on their personal computers, significantly reducing the risk of getting hacked while working from home.
The company also provides a crucial range of monitoring tools to detect breaches quickly and identify vulnerabilities.
Unsurprisingly, business has been booming. The company brings in about $10 million more in revenue per quarter now than it did before the pandemic, and its ability to generate economic value is at an all-time high.
Most investors wouldn't see what we do because they rely on GAAP, a financial reporting system that categorically fails to represent economic profitability. Qualys' as-reported metrics suggest the firm has been generating an unimpressive return on assets ("ROA") between 5% and 9% over the past several years.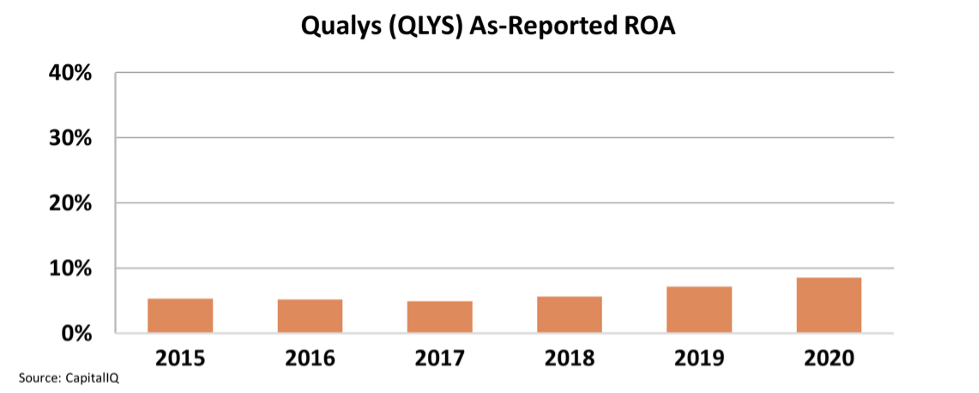 Contrary to what as-reported metrics reflect, Uniform metrics show how the company has successfully monetized its solutions, as Uniform ROA has been around 30% for the past several years.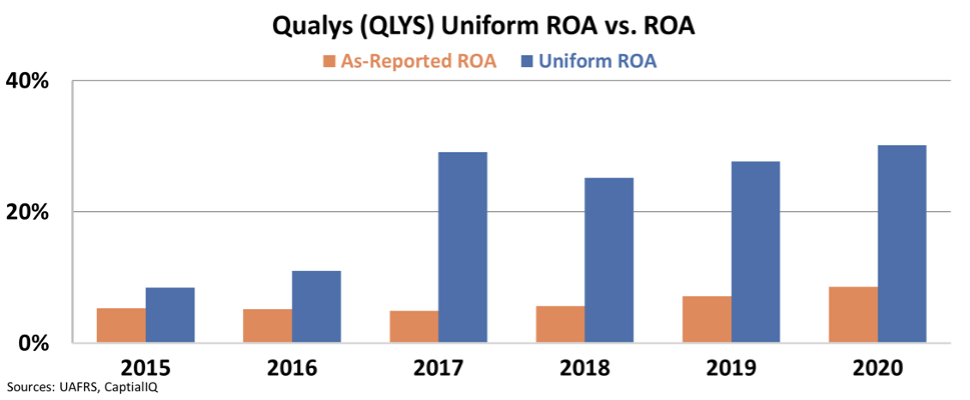 Qualys is not the only company making a premium return through doing essential cybersecurity work. Our research team has found another cyber company, even smaller than the $4 billion Qualys, that has also been earning a 30% return for its impressive security technology.
This company is primed to take advantage of massive cybersecurity opportunities, which may help it grow many times over in the years to come as it takes share from its competitors and upends the industry.
We found a cybersecurity firm with even greater upside...
At Altimetry, our unique and proprietary process has allowed us to discover several microcaps with multibagger upside potential, including one tiny cybersecurity company set to soar as much as 380% by December 31.
This company is completely flying underneath Wall Street's radar, making it a huge opportunity for investors who get in today.
That's why I urge you to check out my brand-new video presentation where I detail this story in full. You can watch it here.
Regards,
Joel Litman
October 20, 2021