The Texas Power Failure Was Just the Beginning
The Lone Star State's 'power grid of the future' was no match for February's winter storms...
You likely recall how this past winter, a massive cold snap battered Texas' electrical grid. The energy meltdown led to widespread blackouts and left millions without heat. At least 246 people died as a result.
In early March, we wrote about what happened – and how it nearly shut down the state's oil production, too.
That's not to mention the $5.8 billion dollars in damage that the storms caused. Pipes froze in lightly insulated homes across Texas. Drivers crashed on perilous roads.
Throughout the 20th century, nearly every state joined in an effort to integrate their power grids. Now, the nation is divided into two grids... one for the West and one for the East. But Texas opted out of the power-sharing plan. Instead, it decided that Texas would generate power for Texans.
That's not the only thing different about Texas power. Texas' grid isn't winterized... After all, it's Texas, not Minnesota.
What happened in Texas was the largest power failure the country has seen in recent years. But even then, it's only one incident out of hundreds.
The majority of these power failures have a main cause in common...
We're talking about severe weather. And these disruptions to the power grid will only get worse... Climate change is a significant and growing problem for the world.
Concerns about climate change have only expedited the transformation in our country's electricity production.
But one segment of the power grid in particular needs more investment, and fast...
We've written extensively about the "capex supercycle." In recent months, corporate and government spending have accelerated to replace old infrastructure.
President Joe Biden's massive infrastructure bill promises to be a huge boon to the struggling electrical grid.
In recent years, the U.S. government has invested large sums of money in the next generation of energy-producing infrastructure. Think solar and wind power, among others.
But challenges remain in the "last mile." The country hasn't invested enough in the tools to distribute the energy created by these alternative sources. In fact, 92% of all outages over the past five years have been at the "last mile" of energy delivery.
This means these "last mile" solutions are in high demand. And one utility company is poised to take advantage of the upcoming supercycle – CenterPoint Energy (CNP).
Our Altimeter tool can show us exactly how much upside CenterPoint Energy has...
Using the power of Uniform Accounting – which eliminates the distortions in generally accepted accounting principles ("GAAP") financial metrics – the Altimeter shows users easily digestible grades to rank stocks based on their real financials.
After making more than 130 adjustments though Uniform Accounting to clean up the distorted as-reported numbers, we can see that CenterPoint's return on assets ("ROA") has steadily been climbing. It's up from below-average returns, which usually hover around 4% for utilities, to an expected ROA of 9%.
That's because CenterPoint is taking advantage of the same capex tailwinds we mentioned earlier. As a result of the company's ROA, CenterPoint gets an "A" grade for its Earning Power Trend in the Altimeter.
On the other hand, CenterPoint's earnings remain weak, partly by nature of the industry. Therefore, the company gets a "D" grade for its Earning Power.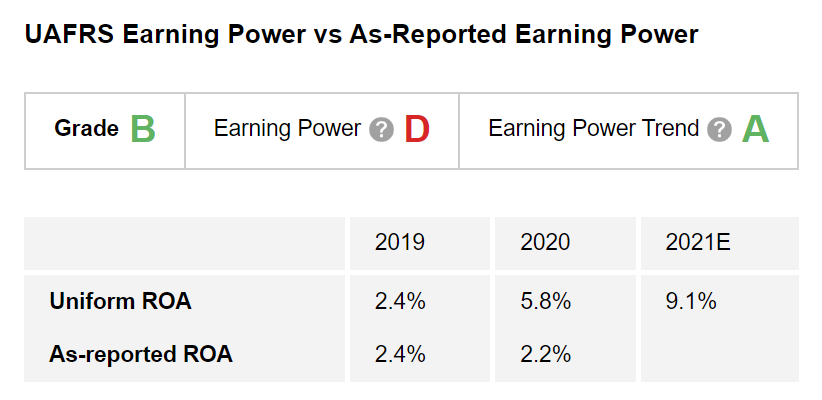 Of course, prior performance is only one piece of the puzzle...
To determine whether a stock is a good buy, you also have to consider valuations. They tell us whether the market has caught on to the CenterPoint Energy story.
Using the Altimeter, we can see what current valuations suggest about performance.
The company's Uniform price-to-earnings (P/E) ratio is 14.9 times, 25% lower than the market average. That gets it an "A" grade. Its earnings expectations are above average, leading to another "A" grade. CenterPoint passes the valuation test with flying colors.
Thanks to the Altimeter, we can instantly see how strong a company is... and how cheap or expensive its stock is. CenterPoint Energy is set to thrive during the upcoming capex supercycle as the U.S. invests more into energy infrastructure.
Best,
Joel Litman,
June 23, 2022
P.S. The Altimeter provides grades like this for more than 5,000 different companies... allowing you to compare their true upside potential at a glance. If you're interested in performing this sort of analysis on capex supercycle winners – or other stocks across a variety of industries – click here to subscribe to the Altimeter today.