This Fast-Food Chain Shows Resilience Even in Bad Times
Wednesday, November 16, 2022
Earnings season has been about as bad as people expected...
Management teams have been dreading the release of third-quarter results. Some of the biggest companies around have reported weak earnings already... like e-commerce giant Amazon (AMZN) and Facebook owner Meta Platforms (META).
Amazon missed expectations and issued disappointing fourth-quarter guidance. Yesterday, it announced it was laying off 10,000 workers. Meta's earnings per share ("EPS") fell short and its metaverse segment lost $3.7 billion.
Shares of the companies are down 15% and 17% since their respective earnings reports.
Inflation has stuck around longer than expected. Rising interest rates are forcing companies to cut costs and lower their expectations.
But it's important to remember that not every company is struggling this much... Some businesses have successfully adapted to a slower economy.
Unlike these Big Tech titans, fast-food giant McDonald's (MCD) beat earnings estimates by 3%. That's nearly $200 million more revenue than Wall Street expected.
It has also proven to be a highly profitable business... The company's EPS was $2.68, which was $0.10 higher than analyst estimates.
Part of this resilience is because McDonald's has substantial pricing power...
As the biggest fast-food chain in the world, McDonald's can raise prices without having to worry about scaring away customers. The company hiked prices by about 6% last year to combat inflation.
Despite that move, management said on the third-quarter earnings call that product demand is still increasing.
This might come as a surprise, since folks tend to tighten their purse strings amid economic uncertainty. It's true that consumer sentiment plunges, people delay higher-value purchases.
But food is always in high demand...
McDonald's excels at providing customers with cheap, convenient meals. Plus, its "addictive" burgers, fries, and milkshakes keep people coming back for more – no matter what the economy is doing.
Plus, other restaurants have also had to raise prices to survive. McDonald's acquires and retains customers by offering consistently cheap and familiar options.
All of these factors create what's essentially a "recession proof" business model. And it has worked well for McDonald's so far this year...
The company's stock has held up much better than the overall market. While the S&P 500 Index is down about 17% year to date, McDonald's stock is currently up almost 2%...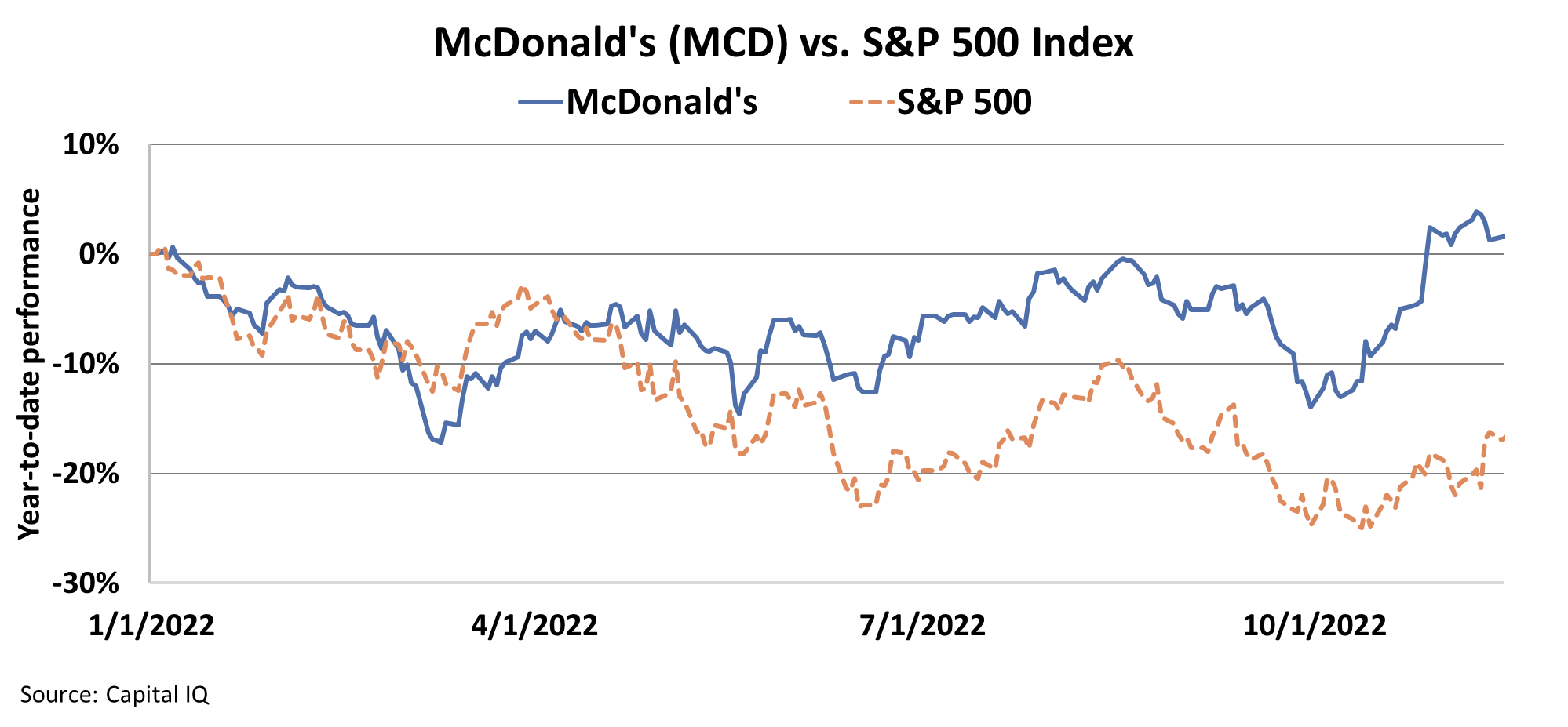 The relative success of McDonald's is an important reminder for investors...
High inflation, high interest rates, and a looming recession make a bad combo for most companies. It's especially bad for luxury-goods makers... businesses with large amounts of debt... and companies that can't easily raise prices without hurting demand.
But while the market may continue to drop, not all stocks will tumble. In fact, some companies may even thrive in tough times.
Big companies with strong balance sheets will do better, for instance. Those that provide essential goods (including cheap food) will hold up well.
When picking investments right now, it's a good idea to focus on resilient companies like McDonald's. Look for businesses with strong demand and safe balance sheets.
They should continue to prosper no matter what the market does next.
Regards,
Rob Spivey
November 16, 2022