Savvy Investors Can Take Advantage of Short-Sighted Panic Over This Medical-Devices Firm
Let's start today with some thoughts on sleep...
Each week, our team of more than 100 employees across the globe gathers for a 30 minute all-hands call. Altimetry has become large enough and we have many different initiatives going on across the company, so it's important for each of our smaller teams to be aware of what everyone else is working on.
These calls are essential for fostering collaboration, innovation, and just helping everyone see the full picture of where our company is heading.
At the end of each week, a member of senior management – generally me or Director of Research Rob Spivey – gives a coaching comment to the team. It might touch on anything from our overall mission statement and vision, to new initiatives for the company, to health and wellness tips and research, to anything else that we think is relevant for everyone to hear.
On last week's call, we discussed research from Dr. Param Dedhia. He's a sleep medicine specialist, and I deeply respect his work. And in the current environment, we felt it was particularly relevant to highlight it. 
As we've spoken about repeatedly here at Altimetry, the coronavirus pandemic has made working from home a necessity, not a luxury... and this has unlocked the "at-home revolution." But with so many people working from home over the past few months, some are also struggling to master a new routine. 
Contrary to worries that productivity would drop as employees work from home, we've seen the opposite happen. For some of our employees, we've even had to have conversations with them about not wearing themselves out by working even more than they did before the shift to working remotely.
There's an inherent issue that you need to be aware of when working from home. With the line between "work" and "home" increasingly blurred, many people find it easy to just keep working. 
This isn't specifically the research that Dr. Dedhia talks about, but it's related...
With people working more – and having less clearly defined spaces for work, play, and sleep, as well as attempting to adjust to a new schedule and a higher-stress world – some folks find themselves sleeping less.
But Dr. Dedhia's research shows that the less sleep you get, the more likely you are to get sick, or make errors in your work. Even worse, the issues worsen over the long term.
According to Dr. Dedhia, seven to nine hours of sleep per night is essential. Some people might believe they can make it work with less... but based on the data, those who can are few and far between.
So just like we reminded our employees, remember that along with all your other to-dos in a day, make it a point to include getting enough sleep – this should be one of the most important priorities.
You'll live longer... you'll work and think better... and you'll be healthier in general.
The health care industry isn't doing great recently...
In yesterday's Altimetry Daily Authority, we discussed how the commercial real estate ("CRE") market is going to need to evolve even after the pandemic recedes.
We looked at industry supplier CoStar (CSGP), and said that any expectations for the company's future cash flows will have to come with an understanding about the demand for CRE over the next few years. While some employees may crave a return to the office environment, others will wish to continue working from home.
This uncertainty doesn't end with commercial real estate. Many industries are currently hamstrung by short-term issues, with an unclear timeline to a return of previous levels of demand.
One industry that investors might not expect to be seeing depressed revenues is a large segment of the health care market. While it may seem counterintuitive at first that portions of the industry would be struggling right now, elective health care has basically stopped in the midst of the pandemic.
Potential patients are pushing off elective procedures such as hip replacements. People are also out on the roads less... and thus the need for treatment has dropped for things like trauma from motorcycle accidents. 
This means that returns all over the elective care supply chain are dropping... Including returns for Integra LifeSciences (IART). The company produces a portfolio of surgical implants as well as tools for all manner of elective surgeries... in particular, for  neurosurgical procedures. 
This is making investors skittish. Even as the S&P 500 Index is now down roughly 10% from its all-time high on February 19, Integra's stock has lagged... IART shares are down roughly 14% over the same time frame.
Over the past three years, investors looking at as-reported return-on-asset ("ROA") metrics would see that Integra has realized piddling returns of 5%... and these levels were before the current disruptions.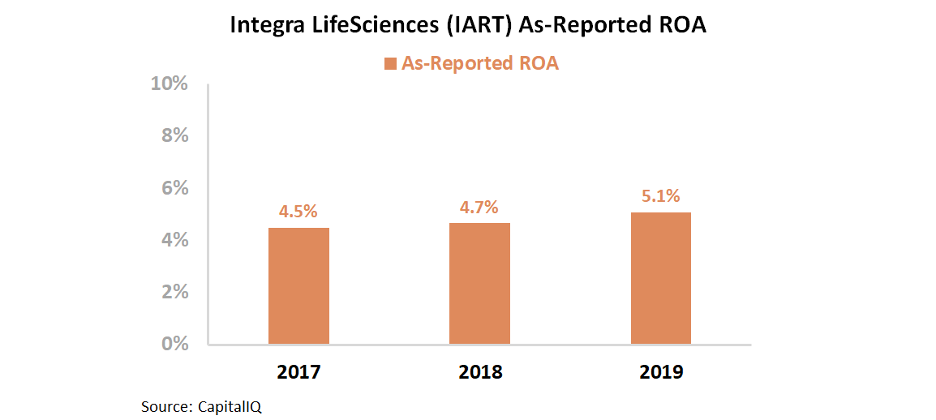 Wall Street looks at a firm like Integra and thinks that the company is on its last legs. With weak returns about to be slashed even more going forward, investors likely don't expect a recovery.
However, experts familiar with Integra's offerings would likely be scratching their heads at this conclusion. Integra produces niche products that are crucial for doctors to perform high-complexity procedures – as we mentioned when discussing industrial machinery manufacturer Barnes (B), this is a strong business strategy. So why are Integra's returns so low?
In fact, Integra's returns are being artificially deflated due to the GAAP treatment of goodwill, research and development (R&D) expenses, and other line items. After making the relevant adjustments, a different picture emerges...
Using the power of Uniform Accounting, we can see that Integra has a strong, growing ROA – returns improved from 22% to 25% in 2019. Take a look...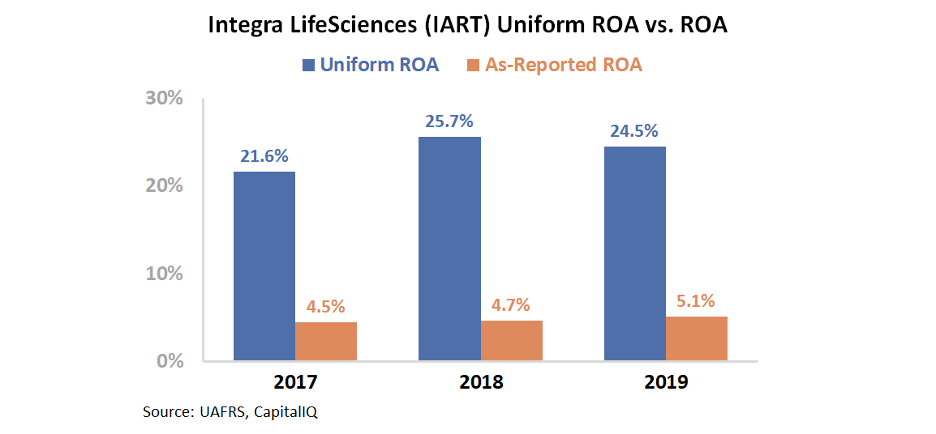 These strong returns show that Integra does provide significant value to its clients, and this enables the company to charge premium prices. However, these are historical returns, and do not take into account the expected reduction in demand due to the slowdown of the elective health care market.
The chart below highlights Integra's historical profitability outlined above, in comparison to what Wall Street analysts think the firm will do over the next two years (light blue bars) and what the market is pricing in at current stock prices (white bars). 
As you can see, the market is expecting a sharp contraction in Integra's ROA not only for 2020, but consistently over the next five years – with returns basically staying flat at around 15% through 2024.

It's understandable when investors see short-term factors negatively affect Integra and elective procedures. However, this isn't like the commercial real estate market, which might suffer from long-lasting issues. There's no reason that, once the pandemic has receded, people won't continue to need elective operations.
This investor irrationality creates value opportunities for savvy buyers. While some people remain overly focused on one year's disruptions, those who understand the company's real returns can take advantage of the market's misunderstanding.
Regards,
Joel Litman
June 3, 2020