This Consulting Firm Is One of the Few Taking Its Own Medicine
Tuesday, October 27, 2020
Management consulting firms make their money by telling clients how they can be disrupted… 
Giving this advice on how to stay ahead has created a $200 billion industry.
And yet, consulting firms can be disrupted themselves. Just as doctors often make terrible patients, consultants refuse to take their own advice and innovate.
These firms have used the same practices for decades… and they date back all the way to the days of Peter Drucker, whom we discussed earlier this month. Many folks view Drucker as the founder of modern consulting.
One of these dated practices is how consulting firms charge for their services. Traditionally, consulting is billed hourly rather than paying for performance. With how quickly things change today, much of the advice from consultants is out of date as soon as it is given. 
But recently, market-research firm CB Insights highlighted that disruption is coming. In the piece, CB Insights explains how one of the perceived genuine assets of the industry is the idea that these firms can extract "superior information."
For example, in the old days, consultants would stake out a business all day. They would gather data like the number of customers leaving stores with a product, which could lead to insight that wasn't available with traditional metrics. 
Today, the growth of data and market-research firms have completely changed this approach. Companies now have access to an unparalleled amount of information… which means consulting firms must adapt to this shift, or risk being left behind. They no longer have a monopoly on superior insight, information, expertise, or execution.
Outsiders have had success creating businesses to disrupt consulting – here at Altimetry Daily Authority, we've spoken about MBO Partners and Upwork (UPWK). Both firms match independent contractors with companies. Management can bypass expensive consulting firms and connect directly with experts.
These are just a few ways the industry has seen disruption… and it's a reminder for firms who give advice to heed their own teachings. They must, as Drucker said, "innovate or die." 
One consulting company focused on innovating is Perficient (PRFT)…
Perficient's offerings include digital strategy, the Internet of Things ("IoT"), creative services, and information technology. The company estimates these markets will be worth $2 trillion by 2022. 
None of these fields existed when consulting was first created. And Perficient was only founded in 1997, just before the dot-com bubble.
Today, some of Perficient's partners include tech giants like IBM (IBM), Microsoft (MSFT), Oracle (ORCL), and Adobe (ADBE). But the company's largest market is health care… Perficient counts nine of the 10 largest health systems as customers. These providers rely on Perficient's offerings to stay ahead of digital disruption. 
The company works to bridge the edges of advertising, consulting, and banking. This provides a unique offering to clients who are seeking to innovate… and Perficient's focus on emerging trends reduces the risk of the company itself being disrupted.
It has also made a slew of acquisitions to enter new markets. Perficient has bought 25 companies since 2010. In June, Perficient acquired software development company PSL – a firm that allows clients to quickly adapt and innovate their software. This capability is important in a time of rapid change. 
Given Perficient's attempts to position itself at the forefront of digital disruption, investors would expect the company to be highly profitable. However, it appears that Perficient has been too late in evolving…
Based on GAAP metrics, Perficient is a company with cost-of-capital profitability. Its as-reported return on assets ("ROA") grew from 4% in 2010 to just 6% in 2019, which makes it seem like the firm hasn't been able to benefit from its position as a digital disruptor. Take a look at these low returns…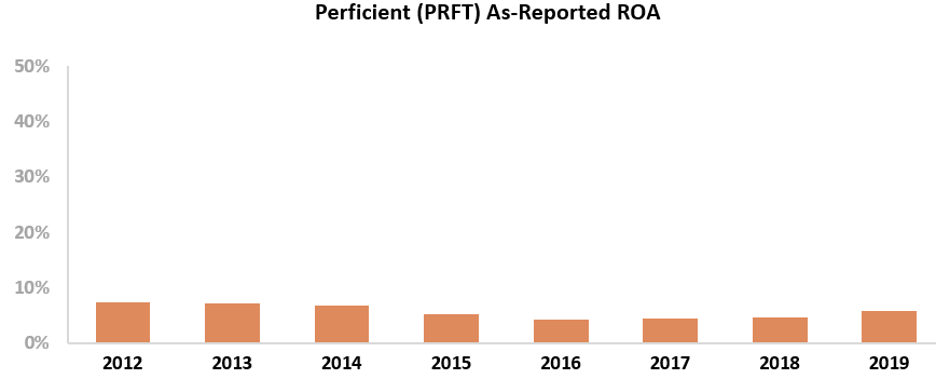 However, this picture of Perficient's performance isn't accurate. 
Thanks to distortions in as-reported accounting – including the treatment of goodwill – Wall Street doesn't see the company's real profitability.
Perficient's Uniform returns have been more than 6 times what the as-reported numbers show since 2010. Just last year, the company's Uniform ROA was 47%, compared to the as-reported 6%!

Perficient has managed to avoid the disruption sweeping the consulting industry. Its focus on innovation makes the company a key player in leading the space into the future… and this has led to consistently high Uniform ROAs. 
And yet, without Uniform Accounting, investors would miss Perficient's strong returns. They might judge the company based on cost-of-capital profitability rather than its truly robust operations. Looking at the real numbers shows how Perficient is one of the industry's disruptors… and not one of those being disrupted.
Regards,
Rob Spivey
October 27, 2020
P.S. What other industries do you think are resting on their laurels and are ripe for disruption in the coming years? Let us know at [email protected]… and we might take a look in a future Daily Authority issue.